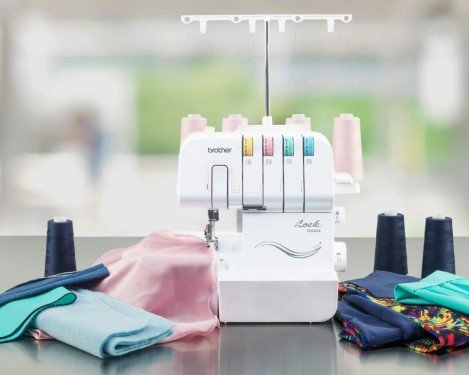 Have you ever tried to finish knits with your regular sewing machine?
It takes time and quite a learning curve, right?
Well, if you haven't already, you will soon realize that owning a Brother serger machine is going to make the task feel like a breeze for a very affordable price. You will save you loads of time like with any other from different brands, but by choosing Brother, you will be saving a lot of money for a quality that has no comparison in its range.
Some Features all reviewed Brother Serger Machines have in common
A huge perk that Brother machines have over other brands is the fact that they all work with regular universal needles and thread which will save loads of money that you will then be able to use for new fabric or extra feet to create new stitches.
Brother Serger Machines are by far the easiest ones to thread. Their system is super easy thanks to a color-coding thread system that guides you along for a trouble-free experience.
These are overlocker machines. None of these machines perform cover stitches and only Brother ST4031HD can chain stitch.
They all come pre-threaded with white thread which is a great advantage.
Making straight stitches is very easy and beginner-friendly. However, working on L-Shaped Edges has a higher learning curve with all the machines in this article. It becomes easy once you have practiced quite a bit.
All the reviewed machines below come with a differential feed ratio of 0.7 to 2.0 to help the feed adapt to the fabric and provide smooth and even stitches. Don't get distracted by this feature as is nothing that the other Brother model doesn't have. If you aren't familiar with this feature, what a differential feed translates to in real life is that if you are sewing several pieces of different fabric, the differential feed will help to serge all those together without any trouble and creating beautiful stitches of equal length and tension.
They work with snap-on presser feet to quickly transition to different stitches.
A common accessory to all of these is a trim catcher tray. However, soon you will realize that it's better to take it off while serging as it's not very big.
The pedal foot allows you to manage the speed on demand by increasing or lowering the pressure.
Top 4 Best Brother Serger Machine Reviews
Ideal for: Sewers with heavier fabric projects that want an affordable price.
Made with a metal frame for a steadier use and longer durability, this tough serger sewing machine has been designed and marketed to sew heavier fabric. The retractable blade is made of carbon steel to ensure the cleanest edge cut even to heavier fabric finishing your projects professionally.
Nevertheless, don't think of it as an industrial model that will take anything because it is not. Besides its affordable price gives you a hint that is not made entirely of metal so if misused, some parts may still break apart.
A big plus that Brother ST4031HD offers is a removable extension of the table surface making sure that the machine creates beautiful and even lock stitches. This extension table is ideal for you if you are going to be working on large pieces of denim, canvas, knits, costumes, and heavier fabric.
With up to 1300 stitches per minute, you can adjust the speed to your needs by pressing the pedal controller softer. This is also great if you are a beginner and need to get used to a new way of sewing. Once you are comfortable with the machine simply press harder to increase the number of stitches per minute and get more projects done quicker.
You will create beautiful ruffles and gather stitches in all sorts of garments including your children's clothes. If you are into piping for costumes or decorative pieces, know that Brother ST4031HD can also make those stitches if you get hold of a piping foot.
If you decide to go for this model, you will be able to serge all sorts of fabric and materials like vinyl, denim, drapery fabric, lining, swimwear, and Lycra fabric, Minky fabric or bamboo baby loop terry among others.
A final tip to get the best out of this machine? The presser foot is not as high as you would expect from a so-called heavy-duty serger, so when working on several layers, keep in mind that you can use a mallet on the edge to help it fit under the presser foot and keep serging.
Performs Chain Stitch
Large extension table to help you deal with fabric weight.
Removable bed table to make the Free Arm available
Right-Handed Adjusting knobs
Heavier cutting blade
Metal frame construction for great stability avoiding undesired vibration
Low Presser Foot Height for Thicker Fabric
Replacement Knives are a bit expensive if you ever need one (around $89 at the official Brother website)
Ideal for: Right-handed lovers of Brother 1034D. From Beginners to Advanced Users with tigh budget.
The main difference between Brother 1034D and 1034DX is the position of controls. While model 1034D is especially suitable for left-handed, Brother 1034DX is the perfect serger for those right-handed who want a bestseller that adapts to their way of sewing.
Moreover, the 1034DX serger comes with LED light providing a brighter workspace perfect for those with tired eyes, instead of an old-fashioned bulb as 1034D does.
Apart from those little details, both Brother 1034D and 1034DX models will perfectly help you finishing edges and hems on a wide range of fabrics as well as creating decorative edges or ruffles.
   You may want to read the review about Brother 1034D if you haven't yet to get a full idea of this model as it is exactly the same apart from some minor changes.
Designed for Right Handed people.
Brighter workspace thanks to a LED light.
Blind Hem Foot Included.
No Seam Guide
Just like Brother 1034D, loud vibration that you can solve by placing a cork base under it.
Ideal for: Beginners buying their first serger. Advanced Sewers looking for an affordable model.
This serger machine from the Brother Designio series is the perfect serger replacement for those who want an affordable machine that comes with a piping foot as well as a blind hem and gathering one for no added price. It's perfect for you if you simply want a good, solid, seam finishing serger that has simple directions to use.
Apart from a wider stitch allowance, the only difference with Brother 1034D is the outer aesthetic: DZ1234 has blue tension dials and 1034D multi-colored. Other than that is a matter of getting better accessories. When you buy Brother DZ1234 at Amazon, you will get an extra piping foot and larger spools of thread than with Brother 1034D.
It works wonderfully on different materials like denim, cashmere, tweed, jersey, super-light stretch fabric, cotton, swimwear fabric or even 4 layers of polar fleece thanks to the differential feed feature that helps adapt both upper foot and lower feed to the task.
The number of different stitches that you can perform with this machine will vary depending on what foot you can use but unless you are a professional serger sewist, and even then, you will be able to get super creative with all its possibilities.
Think of four-thread overlock stitches, ideal for sewing knits or woven, three-thread stitches, perfect for finishing suits, blouses, and slacks, rolled hemming stitches for decorative or finishing purposes, piping, blind hem, narrow overlock or even rolled edge stitches.
Again, if you doubt about what machine to choose, think of the aesthetics. Go for the more sophisticated Navy Blue finish of DZ1234 if you are looking for a more masculine look. If you'd rather have a more feminine one, choose the pastel colors of Brother 1034D or 1034DX.
Who would have said that one day you could choose the color that would better fit your sewing room, right?
   If you are certain that you will use the piping foot, Brother DZ1234 will cost you cheaper than buying 1034D and an extra piping foot.
Includes Piping Foot
Disengage the Blade with the flip of a Switch
Perfect for Left-Handed Users
Super Smooth Operation
Low Learning Curve for General Use
Wider stitch than 1034D
The most Masculine Look of all Brother sergers.
Gathering Foot takes time to learn to use
Presser Foot has a slow start
One screw controls both needles, which makes the task slightly tricky
Included Spools of Thread keep breaking. Use them for tasks like thread basking quilts or such.
Old fashioned light bulb that is easily changeable for a LED light.
Ideal for: Left-handed Users who trust in #1 Bestsellers. From Beginners to Advanced.
Brother 1034D beautifully stitches up to 1300 speed per minute with a grade of performance that has no competitor economically speaking. It is true that for a lot more money you could get a higher-quality serger from other brands. However, in this case, and even if you are a professional sewer, spending double the money won't reflect on what you'll get for it.
If you've never used a serger before, you might be scared of threading one of these machines. Nevertheless, this model becomes extremely easy to thread thanks to its color-coded upper thread guides and lower looper threading system. You just have to follow the instructions. Once you get the threading right, you will be amazed about how easy Brother 1034D is to use.
With this machine, you will do much more than serge seams. You can get creative with rolled hems, blind hems, ruffles and more. In addition to that, it finishes hems on heavy-duty fabrics, quilts or four layers of hemp fleece without getting jammed or giving you any problem.
Another brilliant feature is that you can choose to use the knife or not while serging depending on the project you are working on or the desired finish. Moreover, when you are not using it, the hidden blade will still let you use it as a measuring point to slide over the edge of your project without getting it cut.
Sometimes, when you first use it, you might get the feeling as if the fabric bunches right behind the needles or the feet don't grab it enough. The best advice you can get is to fully re-thread your serger again. It always works. Another downside is that the metal plate of the machine doesn't have any marks to guide you with the width of your seam but you can solve this minor issue by placing a rubber band over the shoulders of your machine.
If you are still not convinced, know that the Brother 1034D has been #1 bestseller in the Serger Category for many years now and has an average rating of 4.5 over 5 which makes it a fair favorite among users of all ages. Honestly, once you try it, you'll realize it's an indispensable machine at its price.
The only reason I wouldn't recommend you this model is if you are right-handed. The thing is that the dials are on the left side of the machine, which makes it perfect for left-handed users. Luckily, Brother created the exact machine with the dials on the right and called it Brother 1034DX, and you can find it reviewed right below.
To end Brother 1034D review, let me tell you that, for a limited period, for only a few more dollars there is a package deal that includes a hard case to transport around or store your new Brother Serger or any machine that fits its measurements.
Designed for Left Handed
Impressive quick and easy threading
Auto-tension feature and forget about loose stitches
Compact and lightweight
Excellent quality for an affordable price
Gathering Foot and Foot Controller Included
Special Package with Hard Case available
No Seam Guide to indicate the width of the edge but easily solvable by placing an elastic band around the shoulders of your machine.
Loud vibration but if you place a cork base under the machine, it will kill most of it.
Light Bulb that you can replace with a LED light or use a table lamp.
Brother Serger Comparison Chart
Let's compare all the Brother sergers we have reviewed above: Brother 1034D vs 1034DX vs ST4031HD vs DZ1234.
  If you're browsing from your phone, scroll to the sides with your fingertip to see the full chart.
*Speed Per Minute: referring to the number of stitches a machine can perform in a minute.
Tips for taking good advantage of your new Brother Serger Machine
Avoid any potential problems by replacing the pre-threaded spools with good quality thread

the moment you receive the machine. Really, just forget about using the thread spools that may come with your machine as its low quality will make the task very frustrating.

You may want to

take advantage of the machine coming pre-threaded and knot up the bobbin's thread that you want to put in its place

, run the machine and — finger's crossed — you will immediately have your new machine threaded with a good quality thread of the color you want. Ready to start trying it out!

Learn how to thread your machine

from the very beginning as you will have to re-thread it many times. Face this fact and lookup for a YouTube video that explains the how's and get on with it. Don't be intimidated by it. Once you get it,

Brother machines are straightforward to thread compared to many other brands

.

Place a

cork board pad under the machine

to avoid unwanted vibrations.

Find all types of

free projects at BrotherSews.

If you are new to

serging

, a good idea is to

buy a cheap but great serging book

,

The Complete

Serger

Handbook

, together with your new machine. With it, you will get all the hints and tricks to make this new tool a super useful one.

If you doubt whether to buy a new

serger

machine or not, know that

you can always get a refund

in the unlikely case that you are not happy with it. So why not give it a try?
FAQs
What is the best Brother serger?
Every buyer has their own needs so it's up to you to decide what model suits you best. To help you out we have reviewed the top choices that you should consider in this article.
What is the difference between Brother serger 1034DX and 1034D?
Newest Brother 1034DX vs 1034D has the following upgrades:
- Right-Handed Adjusting Dials vs Left-Handed ones.
- LED Light vs Old-Fashioned Bulb-Light.
- An extra Blind Hem and Piping Feet.
Read a full review of both models.
What does a brother serger do?
A serger machine or overlock, no matter the brand, finishes hems and seams. Like with every other sewing machine type, you can get as creative as you want.
Thank you for choosing TheJoyofStitching to learn more about sewing machines! We take pride in our research and truly hope that you've found the information interesting. Please, feel free to put a comment letting us know what you think. Also, know that if you buy any product through a link on our website we may earn a small affiliate commission that might help us keep the website running. In any case, the price you pay won't change.
Some other articles you may want to read