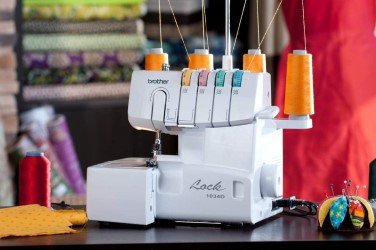 A serger sewing machine can be the perfect addition to your sewing room if you get over the initial fear of using it for the first time.
Once you have one at home, you'll ask yourself why it took you so long before buying it. You'll realize that even if it can be intimidating at first to work with four different spools of thread, once you've mastered it you'll be able to not only finish hems in a professional way but to create all sorts of fun clothing.
It can be a great addition to any family's household and baby clothing looks amazing when getting creative with a serger sewing machine so they're the perfect tool for young mothers or grandmothers who want to sew for their little ones.
See great projects ahead of you.
Top 10 Best Serger Sewing Machines
Ideal for: Users looking for a 2-3 thread only serger that is top quality.
Juki MO-623 serger machine is ideal if your main purpose of buying a new machine is to serge the fabric's edging to prevent fraying from the comfort of your home. 
Apart from the fact that you can't go wrong with the quality of a Juki, this machine is the perfect economic tool to always have ready and prepared for quick serging. It can perfectly manage fabrics from thin to thick weight delivering an even stitch every time.
If you only need a 2-3 thread machine this model runs beautifully and it's super easy to thread and run making the most even and neat roll hem that you could expect. 
The Juki MO-623 serger machine feels extraordinarily well-made, with all its parts strongly built together and easily reachable allowing you to access the most difficult threading with ease, it's without a doubt a machine that will give you a wowing quality of stitch.
Besides, if you make sure to keep the dust off and well oiled, any machine from this top-notch brand will last you a lifetime.
Strongly built with NO plasticky feeling.
No cut away remnant catch tray.
Ideal for: First-time users looking for a cheap serger.
Janome MOD-8933 serger machine can quickly switch to a rolled hem stitch without changing the foot allowing you to create lettuce edge hems and sleeves without adjusting any tension dial. It can also do gathering by changing some specific changes to the machine settings such as stitch length, tension, presser foot pressure, and feed dog all with the same standard foot. You can also do some other special stitches like narrow hem and picot hem.
A big perk for this model is that the machine's housing opens up widely making the entire thread route easily accessible and viewed making it also super reachable for cleaning and oiling tasks.
Its retractable upper knife lets you work on projects that don't require fabric cutting and is also super useful to increase safety, especially for beginners who are new to threading a serger and aren't so familiarized with all its parts.
If you are right-handed, this one is also a good option for you thanks to the dial being placed on the right side of the machine, although left-handed people could easily adjust to it.
Like some other machines, this model also comes with rubber feet helping it stay in place while serging and making the stitch uniform and precise. This sturdy model can easily handle thick fabrics like tweed, denim, coating, and others. Nevertheless, always check the tension adjustment before trying new fabrics.
Heavier than Brother models making more stable when serging.
Stronger loopers than Brother models, therefore, less prone to snap and break.
Dust cover included.
No free arm.
No two thread stitches, only 3 and 4 thread ones.
It doesn't take standard sewing machine needles.
Ideal for: Users who want an affordable and top quality serger.
Juki MO644D serger is the perfect upgrade from any 4 thread Brother or Janome serger machine. No matter how solid and hard-working your machine was, this Juki will beat its overall quality and for an unbeatable price. It's without a doubt a fantastic addition to your sewing room.
Even though it has no bells and whistles, it is worth every penny and more. Its lighter weight and handle make it perfect for small sewing spaces with limited room for a new machine and its suction cups will keep it in place even if your children try to lift it up. Capable of beautifully stitching rolled hem, satin stitch rolled hem, gathering, flat locking, or lettuce edges, once you've tried you'll be surprised of how quieter and smoother than usual it is.
Even professional fashion designers are using this machine of wonderful reputation and taking advantage of its reliability to sew on all kinds of fabrics without skipping a stitch, from layers and layers of fleece and denim to cotton lycra, rayon lawn, delicate satin, or silk chiffon. And even though it's said to work only on light to medium fabrics, know that the knife will cut through the thickest sweaters after ongoing use.
A low learning curve makes it ideal for you if this is your first serger machine and you want an excellent quality of stitches from the very beginning. With it, you'll be able to work on woven fabrics, make hats or coats and serge all sorts of clothing together, like sweaters. You'll be surprised at how heavy duty this machine is.
Worth every penny.
Excellent quality of stitches.
Juki reputation.
Favorite of fashion designers.
Ideal for: Sewers looking for a good combo machine.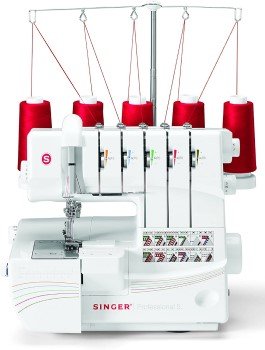 Budget: $$$
Our rating:  icon-staricon-staricon-staricon-staricon-star-half-empty
FEATURES
Included Feet:

General Purpose Foot, Elastic Foot, Blind Hem Foot, Shirring Foot, Beading Foot, Cording Foot, Taping Foot

.
Speed per minute:  1300 spm
Number of Threads:  2, 3, 4 or 5
Chainstitch: Yes
Coverstitch Function: Yes
Singer Professional 14T968DC is a serger and coverstitch combo machine that can create stitches of up to 5 threads for a wide variety of stitch combinations that include chainstitch and a few more covertitch options. Besides, it comes with several feet in the pack like the elastic foot to work on swimwear or lingerie, a beading foot letting you add embellishments to your garments, and a shirring foot that simultaneously gathers a fabric while attaching it to a second flat one.
It has so many options that you will have to take a few moments to decide which stitch to use so if what you want is options to play around, this is your machine.
And that is a perk and a downside depending on who is looking.
If you want both a serger and a coverstich machine but your budget isn't that high, having a combo serger and coverstitch machine could be your solution. Nevertheless, if you have enough money for your new sewing tools, it might be a better option for you to get a serger machine plus a separate coverstitch machine. Or you can buy this beautiful model, get some experience first and give yourself some time to think about whether it's worthwhile for yourself to buy a second machine. Once you've made up your mind, set this machine as either a serger or a coverstitch, and buy a second simple one to have it always set up and ready to work.
And with all these features you're probably wondering whether it's wise for a beginner to buy this machine in particular. Let's say that if you know enough about the matter to understand everything this machine can do before buying it and you know how to thread both a serger and a coverstitch, you are ready for it. Otherwise, you might be better off with a regular and more simple serger or coverstitch machine.
However, if you still really want it, schedule a few weeks to learn and learn and keep learning from the instructions and online videos but please keep in mind that you will have to reconfigure the threading for each type of stitch. Be patient, start practicing stitch by stitch and give yourself a break whenever things aren't working as you expected.
Well, to end this particular review let me add that this is a solidly built machine, surprisingly quiet, and the stitches are perfect pretty much each time. It comes with an auto-tension dial and extra high presser foot clearance making it easy to work on thick fabrics and always have the right thread tension without doing much.
Absolute professional finish.
Cutting collector tray.
LED Ligthing.
Soft Cover to keep it from dust making it cleaner and last longer.
Chainstitch.
Coverstitch function.
Ideal for: For users who seek Juki's quality over other brands.
Juki MO654DE serger machine has the power of an industrial serger for a fair price so if you were looking for a 4 thread serger that can manage heavy-duty fabrics with ease you have found your machine.
You will see that the knife cutter can go through thick fabric like it was butter. It works with standard needles for both thin and thick fabrics and is very easy to thread once you've learned how to do so. Besides, you will find that the professional excellence of the stitches makes your designs look top quality and that it navigates curves very well. If you ever owned another brand, you would notice that this one beats the competition in overall quality and durability.
This is also a great choice for beginners who are willing to take the time to learn how to use it since it's easy to thread, easy to operate and it serges all sorts of fabric with absolute ease. A very good choice for a basic but hardworking serger sewing machine without sparing at a high speed that amazingly whips through edging.
Last but not least, know that this model also includes suction cups to help the machine absorb shock making it quieter and more stable which consequently adds consistency and quality to the stitches.
  Remember to write down the fabric tension settings before playing around as you will surely want to reset it at some point.
  TIP FOR BEGINNERS: Have a close reading of your manual before trying out the machine for the first and remember to make sure that the thread is properly fitted in the tension discs and not just draped around the coils..
Flatlock Stich capability.
Handles curves flawlessly.
High speed saving you time without missing quality.
Quite quiet and stable for a serger thanks to its suction cups.
Ideal for: Users who want a machine with accessories included. Piping Lovers and left-handed users.
Brother DZ1234 serger machine is the perfect model for you if what you are looking for is an affordable machine that comes with some extra accessories like a piping foot, a blind hem and gathering one for no added price. It's also perfect for you if you just want a simple seam finishing serger that has easy directions to use.
It works great on different materials like tweed, denim, cashmere, stretch fabric or swimwear, cotton or even 4 layers of fleece thanks to the differential feed feature that helps adapt both upper foot and lower feed to the task.
You will be able to get super creative with all its possibilities. Think of 4 thread serger stitches, ideal for sewing knits or woven, three-thread stitches, perfect for finishing suits, blouses, and slacks, rolled hemming stitches for decorative or finishing purposes, piping, blind hem, narrow overlock, or even rolled edge stitches.
If you are in doubt about what serger machine to choose among the Brother options, think of the aesthetics. If you'd rather have a feminine-looking serger, choose Brother 1034DX and its pastel colors. Otherwise, go for the Navy Blue finish of DZ1234 and its more masculine look.
  If you know you will use the piping foot, Brother DZ1234 should be cheaper than getting the 1034DX plus a piping foot.
Includes Gathering, Blind Hem and Piping Feet
Disengage the Blade with the flip of a Switch
Perfect for Left-Handed Users
Low Learning Curve for General Use
Masculine Look.
Helps you save money since it takes Standard Sewing Machine Needles
Free Arm.
Gathering Foot takes time to learn how to use
Presser Foot has a slow start
One screw controls both needles, which makes the task slightly tricky
Included Spools of Thread break easily. Use them for tasks like thread basking quilts or such.
Old fashioned light bulb that is easily changeable for a LED light.
Ideal for: Users who are devoted fans of Brother 1034D but are right-handed.
Brother 1034DX is the ideal serger for you if you are right-handed and want a top seller that fits a limited budget.
With this Brother serger machine, you can do much more than serge seams. You can get creative with rolled hems, blind hems or ruffles and, in addition to that, finish hems on heavy-duty fabrics, quilts or four layers of hemp fleece without getting jammed or giving you any problem.
Besides, this serger comes with LED light providing a brighter workspace that is perfect for those with weary eyes which will also help you finishing the edges and hems with more ease on a broad range of fabrics as well as creating beautiful decorative edges or ruffles.
Another great feature is that you can decide whether to use or not the knife while serging depending on the desired finish. Moreover, when you are not using it, the hidden blade will still let you use it as a measuring point to slide over the edge of your project without cutting it.
However, I would only recommend you to buy this model of serger over other brands like Janome or Juki if you can't afford a more expensive 3-4 thread one.
Designed for the Right-Handed.
LED light for a brighter workspace.
Gathering and Blind Hem Feet Included.
Saving loads of money in needles since it takes Standard Sewing Machine Needles.
Free Arm.
Loud vibration that you can solve by placing a cork base under it.
Ideal for: Lovers of Singer who will take the time to learn how to use .
Since it's one of the best-valued serger machines by the users, I've decided to include Singer ProFinish 14CG754 among this list and give a very specific review about all its perks and downsides so you can decide for yourself.
Some of the problems users would warn you about are the tension and threading issues that they might have experienced. However, and in all honesty, they are mostly due to not having the right information before starting to use this model. A common mistake that people make is to accidentally pass the thread between the disk and the tension dial which will consequently make the tension on the threads untightened and therefore causing the machine to skip stitches and breaking the thread often.
Threading this machine needs you to be patient and to watch enough videos on the matter, thinking thoroughly and paying attention to the instructions but once you've mastered the threading, you will realize that this is such an easy machine those even beginners can learn its wonders and after the initial learning curve, use it to check whether or not they like getting creative with a serger before buying a more expensive brand one. It really is one of the best options for the price, and you will still be creating perfectly made stitches.
Notice that it will be a bit difficult to thread if you are left-handed and that some say it can be a bit noisy, although not more than a regular sewing machine.
Reasonably priced for a beginner
Free Arm.
Extra-High Presser Foot Lifter to stitch through thick fabrics.
LED Lighting that lasts longer and stays cool to the touch.
Tricky threading if you don't have proper advice, although now you do.
Threading system not recommended for people with arthritis.
Ideal for: Users who want a self threading serger or have sight issues or arthritis.
Looper Air Threading feature to thread with ease.
Perfect for users with arthritis or sight issues that would need help threading a serger.
Automatic needle threader.
Knife deactivation on demand.
Ample fabric throat area of 7.2cm.
LED Sewing Light.
Price is for high-budget pockets only.
Serger Comparison Chart
*Speed Per Minute: referring to the number of stitches a machine can perform in a minute.
Click to rate this post!
[Total:

1

Average:

5

]
Some other articles you may want to read: