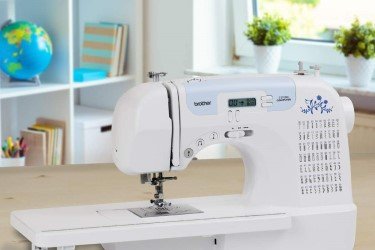 After many days of good research and patience, we have selected the Best Brother Sewing Machines that are currently available on the market. Let's check them out straight.
Summary
Best Budget.
Brother GX37 Sewing Machine Review
Best for Beginners.
Brother CS7000i Quilting and Sewing Machine Review
Best for Making Clothes.
Brother CS5055PRW Quilting and Sewing Machine Review
Best Heavy Duty.
Brother ST150HDH Heavy Duty Sewing Machine Review
Best for Embroidery.
Brother SE1900 Sewing and Embroidery Machine Review
Best for Quilting.
Brother PQ1500SL Quilting and Sewing Machine Review
Best Rated.
Brother XR9550PRW Project Runway Sewing Machine Review
Best Serger.
Brother 1034D Serger Sewing Machine
Top 8 Best Brother Sewing Machine Reviews
Think of Brother GX37 as the perfect sewing machine for people who only sew light and medium weight fabrics like
cotton or silk
and don't want to spend a lot. That being said, you could potentially use it for spare denim projects. Another reason to choose this machine is its
portability
, which makes it easier for you to take to your sewing lessons or your mountain cabin. You could also use it in your minivan while you're on the road, as its LED light is more than enough to work on your projects and doesn't take up much space. If you're looking for a machine to play around with,
see how much you like sewing
, experiment, and keep improving your new skills, I would recommend this model to you. Otherwise, if you already know how to sew and think of it as a potential main sewing machine for your sewing room, be aware that you may grow it soon.
Reverse sewing lever for a professional finish.
Portable, lightweight, and easy to store.
Great for beginners.
Good for apliqué.
Avoid sewing heavy-duty fabrics.
The predecessor of this unit, Brother CS6000i, is still one of the best sellers in the sewing category. And Brother CS7000i is fast becoming
the new favorite
. Its good price and ease of use, combined with a lot of advanced features and plenty of presser feet included, make this model a great opportunity for beginners to get started. Without a doubt, a great opportunity to
keep exploring the possibilities of this beautiful hobby
without worrying about growing your new machine any time soon.
Drop the feed dogs for free hand quilting.
Speed Slider Control and forget about the foot pedal.
Very easy to troubleshoot beginner's errors.
Hard protective case included.
Wide removable table included for increased versatility.
Advanced quilters beware, it is a small machine so the throat space. Handy to store away but far from being a longarm sewing machine.
It might feel a bit plasticky for some, but it definitely delivers great stitches on all sorts of light and medium weight sewing and mending projects.
This limited edition sewing machine from Brother was showcasted on the TV Show Project Runway and, as you've probably figured out, is more than perfect to
start creating your own garments
as well as all sorts of projects. And even though the throat space can't fit super large projects, this sewing machine can also be a
pretty decent quilting tool
and definitely
perfect to use for your classes
. It's also a good option to have in your sewing room, no matter if you're just starting to sew or have some experience. It is quiet, and you get the right number of stitches and features for your sewing projects, or if you're exploring new quilt skills. If you're an advanced quilter, this computerized machine is likely to fall short. Overall, I'd say that for the price you pay, you get a lot of stitches for all kinds of sewing and plenty of different presser feet. Considering what it would cost you to buy every feet as an extra accessory, I'd say it's worthy. That said, it's still a plastic machine, and that's why you need to handle it more carefully than a full metal machine. Be sure to clean it and oil it often, and it will last for years and years to come. Again, for the price,
you'll be pleasantly surprised
.
It comes with a Drop-in bobbin.
The price is unbeatable for all the things you can create.
Perfect to take to your sewing lessons.
The built-in threader could work better.
No bed extension available for quilting.
Brother ST150HDH is the first home-use sewing machine with a metal frame which makes possible
sewing on tougher materials
and will still last you for many years. It
sews with ease all kinds of materials
and as many layers as the height of the presser foot allows and can handle from denim hems to beautiful silk fabrics, making the dream of any garment maker possible for a very affordable price. In addition, thanks to all the features that it includes, you're going to save tons of time, make your life super-simplified, and make sewing enjoyable again. All without having to spend a fortune. If you're new to sewing and want a machine to
boost your skills
, this model is the perfect companion for any beginner while offering a creative future. Even if you're a skilled seamstress, you'll be astonished by this little beauty. It's easy to thread and comes with all the necessary attachments and presser foot for the daily sewer, while being light enough to carry it around, and sturdy enough to stay in place while sewing heavier materials.
Longer Feed Dogs for improved fabric feeding and sewing.
Bobbin clear case to see when you need to load more thread while you keep sewing.
If you plan to sew on multiple layers of heavy-duty fabrics, know that the presser foot you're paying for might be a bit short for your needs. However, if it fits below the presser foot, you'll be able to stitch it through.
Ideal for
: Beginner and Intermediate. Perfect for beginners who want a combo machine.
Brother SE1900 is a multipurpose machine with a high value for money. The package includes a 5″ x 7″ hoop and the quality of the sewing and embroidery for a domestic model will drop your jaw. In fact, most users have given this machine the highest rate possible.
Free motion quilting
Good quality-price ratio
The maximum embroidery area is 5″ x 7″
No free arm
This is Brother's version of Juki's bestseller, TL-2000Q, and if you're looking for a Brother to replace your conventional machine with a
larger throat or midarm
sewing machine, Brother PQ1500SL is a great choice. Thanks to its
metal chassis
and heavy-duty performance, this is a workhorse for any sewing room without having to spend a fortune. It has a side door that opens so can keep it well cleaned and oiled, helping it last forever. Apart from the large throat fitting quilts of all sizes, its knee lifter and multiple included feet, like a free motion foot or a walking foot, will make the
smartest investment for quilters
looking to upgrade or getting a second machine for piecing or free motion. Thanks to the Automatic Cutter, you can forget forever about reaching under the quilt to clip the bottom thread. With the touch of a button, the thread gets cut, and you can immediately start right away a new line of stitches. Such a time saver! As industrial and old-fashioned models, everything in this machine is left-oriented which is actually great for left-handers or people training their industrial skills. If you're right-handed, don't worry, it's just a matter of getting used to it, and
absolutely worth the result
.
Wonderful machine for quilters.
Its weight keeps it in place while quietly sewing large projects.
Very well made and with metal chassis for longer durability and endurance.
The pedal foot is very responsive and easy to control, which makes dealing with the speed a delight.
Built-in Knee Lifter leaving both hands free for fabric handling.
With the Precision pin feeding system, the machine moves all layers of your quilt together or a delicate velvet without leaving feed dog marks in the nap.
No Free Arm.
Only straight stitches, no zig-zag nor decorative stitches.
The Brother XR9550 is the top rated Brother sewing machine. You'll be surprised how
flawless and user-friendly
it is. It also has a Start/Stop button, all of which makes this sewing machine an
excellent choice for beginners
of all ages. Skip the foot pedal and focus on handling the fabric. Given its light weight and affordable price, it's only normal that, at high speed, the machine moves a little. But it's all a matter of putting a rubber mat under it. With respect to how well the self-threading feature works, as always, it's a matter of how mechanically inclined you are. Take the time to understand how it works, and it will. Another great feature is the capability to see how much bobbin thread is left, thanks to the clear case. You will understand why it's the top rated machine – for beginners, if you ask me -. Clearly,
its quality and many functions make it a good choice
for young children that want to
learn the arts of sewin
g with.
Makes a reliable travel machine.
Featured on Project Runway TV Show.
Hard Case Included.
Wide Table included.
If the tension is not properly adjusted when at high speed, decorative stitches can look loose.
Brother 1034D has no performance competitor in its price range. Even if you're a pro sewer, you'll notice how the price quality ratio has no rival. Yes, there are better machines, but the price doesn't correspond with the quality you'll get. Get creative making ruffles, blind hems or rolled hems, and finish hems on quilts and heavy-duty fabrics without any problems. Honestly, once you try it, you'll realize it's an
indispensable machine at its price
. And know that the Brother 1034D has been the #1 bestseller in the Serger Category for many years now.
Perfect for left-handed.
Super easy threading system.
It has an Auto-tension feature so you don't get loosen stitches.
It's compact and lightweight.
For a very affordable price, you get an excellent quality.
It's missing a Seam Guide but if you place an elastic band around the shoulders of your serger it'll do the trick for no money.
As any serger, it can vibrate quite a bit, although most of it will go if you place a cork base underneath it.
You may want to replace the ligth bulb or use an ordinary lamp as the one included may not be enough for your needs.
Brother Sewing Machines Comparison Chart
*Speed Per Minute: referring to the number of stitches a machine can perform in a minute.
Click to rate this post!
[Total:

1

Average:

5

]
Some other articles you may want to read:
FAQs
What is the best Brother sewing machine?
It really depends on the kind of crafts you want to create. Will you be making large quilts? Maybe some clothes? Or simply mending occasionally? Check out the Best Brother Sewing Machine for your needs
What is the best Brother sewing machine for beginners?
There are several models that could be a good option, which inspired us to create a full article reviewing the Best Brother Sewing Machines for Beginners. Check it out
Are Brother sewing machines good quality?
Yes! Are they the best quality in the market? I'm afraid brands like Janome or Juki are of better quality. You can discover on our website the Best Janome Sewing Machines and the Best Juki Sewing Machines.
Which is better singer or Brother sewing machines?
Brother, no doubt. The Singer brand used to be a great one, but in the last decades, its quality has decreased exponentially.