Of course, you're looking for the Best Janome Sewing Machine on the market right now!
It's well-known that Janome sewing machines are the sewer's delight. The Japanese design of these machines surely enhances sewing projects thanks to an outstanding quality of stitches. Every Janome owner agrees on their smooth operation, good manufacturing quality, and long life.
The only thing you need to do is to keep your new machine clean and well oiled and you're most likely to be free of any machine issues for years to come.
What can I say, no matter if you're a beginner or an amateur, if you have a nice budget, getting any of these machines is going to be the best sewing decision you can take.
After all, good tools make all the difference in achieving great results, and Janome is definitely an example of how every brand should design and manufacture its machines.
Best for Beginners. Janome 2212 Sewing Machine Review
Best for Heavy Duty. Janome HD1000 Sewing Machine Review
Best for Workshop. Janome 3160QDC Sewing Machine Review
Best for Intermediate Users. Janome 4120QDC Sewing Machine Review
Best for Advanced Users. Janome S5 Sewing Machine Review
Best for Quilting. Janome MC6650 Sewing Machine Review
Best for Embroidery. Janome HMC 9850 Sewing and Embroidery Machine Review
Top 7 Best Janome Sewing Machine Reviews
Lightweight and easy to use, this machine is perfect for beginners who want a basic but versatile option for all sorts of sewing. Thanks to the drop feed dog feature and to a fairly decent throat size it's definitely ideal for sewers who need a basic machine that will also serve them as a 'take-to-lessons' quilting sewing machine. It's easy to transport, and the price is just right.
If your current basic machine gives you a headache every time you want to work on a new project and you're looking for a new affordable model that will actually do the job, this Janome beauty has your back.
True, it's a bit noisier than high-end machines, but the stitching quality is fantastic, and if you just want simpler stitches like straight and zig-zag stitches, it can't deliver any better.
The only scenario where I wouldn't recommend buying this machine is if you're going to sew heavy-duty projects on a continuous basis. Because even though it runs perfectly through tougher fabrics, at the end of the day, the engine was not been designed for that purpose and will eventually stop working.
This Janome is a great option for beginners and even kids who want a machine to get creative and learn this new skill. Besides, it has so many features that any newbie will continue exploring all its possibilities for a long time.
You can drop the feed dog and do free-motion sewing.
Easy to transport and take to lessons.
Good quality.
Great for beginners and even kids.
Fair budget price.
Nice beginner throat size for quilting.
Drop feed for free-motion sewing.
Not for continuous use on heavy-duty fabrics.

It doesn't have a needle threader.
Thanks to the minimal use of plastic and the fact that the Janome HD1000 has no electronics whatsoever, it will last you longer than any other home machine. Forget about small inner parts breaking due to crystallization.
If you're looking for a home machine to work on some spare heavy-duty projects, know that this machine it's definitely ideal for light and medium weight fabrics. Thanks to its powerful motor, you'll be able to sew heavy fabrics such as thin leather or denim. Nevertheless, know that you'll overheat the engine when sewing thick leather, reptile skin, canvas, twill, plastic, or rubber.
You'll notice that it works on heavy-duty fabrics with the same efficiency as on lighter fabrics.
Metal Body made of aluminium, just like industrial machines.

Powerful motor of 1.0 Amp. for home use.

Threading system perfect for left-handed.

No electronics for longer durability.

Hard Cover Included.
Beginner's beware: this machine has high power and a non-regulable speed.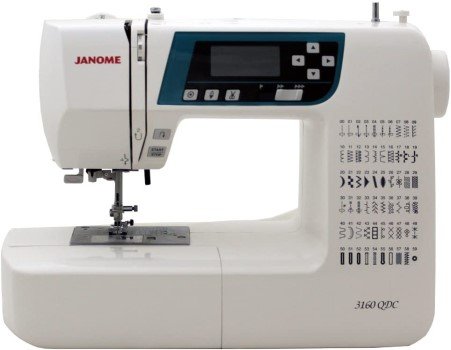 Budget: $$$ Our rating:  icon-staricon-staricon-staricon-staricon-star-half
FEATURES
Included Feet: Open-Toe Even Feed, Open-Toe Darning, Zig-Zag, Overedge, Zipper "E" Sewing, Satin Stitch, Blind Hem, 1/4" Seam, Zig-Zag, Automatic Buttonhole.
Built-In Stitches: 60
Buttonholes: 6 One-step
Free Arm: Yes
Janome 3160 is hands down the favorite sewing machine for quilt retreats and sewing lessons. Besides, it's lightweight and small size which also makes it perfect for your camper during your holidays.
It has a table that comes with it to extend the area where you can sew which makes it perfect for heavier projects or fabrics since the weight doesn't pull the fabric.
No matter your skill level, this machine adapts to you from the very beginning. As a beginner, you'll find it super easy to thread and, as a more advanced sewer, you'll notice how everything you can do with a bigger machine you'll be able to do with this model which makes it perfect to have a second home machine or take it to your sewing retreat.
Even if you're a quilter, you'll find that this machine has every feature necessary to make the best out of your skills. It's true that the length's limit could be higher as for the machine basting it's a bit short — 5mm length —, but I'd say it's the only downside you'll find.
Perfect for travel and going to quilt and sewing group meetings.

Start/Stop Button and Speed Slider Controller for full hand control.

Strong enough to work on heavier fabrics like denim.

Sewers wanting to branch into quilting.

Extended Table Included.

Hard Cover Included.
Maximum stitch length is 5mm.

No knee lifter.
Janome 4120QDC is a sturdy, well-built, solid machine that doesn't take a lot of space and it's light enough to carry it around while offering you the great capabilities of larger machines.
It's a great option if you're ready to upgrade your beginner machine but aren't ready to spend thousands of dollars on a new one. It has everything you might possibly need as an intermediate user, from variable speed and drop feed dogs to alphabet stitches, self-threading, and cutter function, plus the auto knot feature that ends your seams automatically.
Forget about threading your machine, threading the needle, cutting the threads after finishing a seam, and even knotting the two ends. Have you already realized the amount of thread you're going to save? All of these high-end features will become a must once you try them out. You'll see how fast you move on with your projects thanks to all of these time-saving features.
Built-in One-hand Needle Threader and Cutter plus Auto-Knot Feature to perfectly finish seams while saving loads of time and thread in the process.

Start/Stop Button and Speed Slider for complete manual control.

Mirror Stitching Function and Stitch Pattern Memory Capability up to 50 stitches to avoid stopping each time you want to use a new stitch.

Locking Stitch Button

Twin Needle Functionality

Memorized Needle Up and Down

Free Arm
No Knee Lift

Alphabet Letters are small sized and it doesn't skip the stitch between words..

Depending on your needs it may not have enough light, but you can easily solve it by placing a LED string on top of your machine.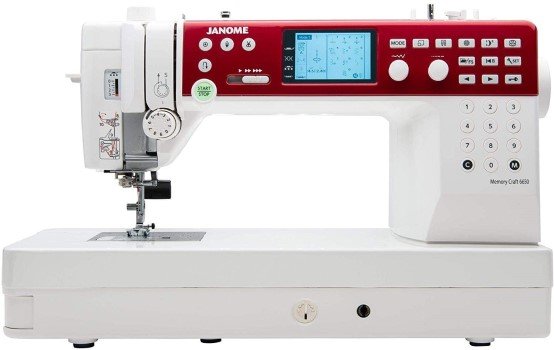 Budget: $$$$$$
Our rating:  icon-staricon-staricon-staricon-staricon-star-half
FEATURES
Included Feet: Blind Hem, Buttonhole, Darning, Free Motion Quilting Holder, Free Motion Quilting Zig-Zag, Open Toe Satin Stitch, Overedge, Rolled Hem, Satin Stitch, Zig-Zag, Zipper. 
Built-In Stitches: 170 + 2 Alphabet Fonts
Buttonholes: 9 One-Step
Free Arm: No
Janome MC6650 is perfect for free motion quilting and is likely to have the largest throat area of all home machines at the same price range.
It sews everything from very light fabric to heavy denim. Its metal body makes it heavy enough to stay in place no matter the size of your project and it's a good option for you if you want a quilting machine that can create a great straight stitch with the added possibility of many decorative stitches and alphabets, including a few zig-zag options.
Great throat space for bulky projects and big quilts.

Bigger bobbins than usual allowing you to load more thread and change bobbins less often.
As a minor issue, it lacks a low bobbin warning although it does have a clear case bobbin to check if you need to load more thread.

You need to buy Even/Walking Foot and ¼" Foot separately.

No Knee Lifter Included.
This machine is perfect for advanced sewers that want all the features a Janome Horizon has to offer, minus the embroidery capabilities and at a very low price.
You're going to love the needle up and down combined with the knee lifter that allows you to turn the fabric around while the needle is still down and keeps stitching in a new direction.
The lock key and speed slider make it perfect to teach children this beautiful hobby since you can lock the needle while handling the threading area or changing the needle. This way, children will be able to learn without any risk. Other amazing features include an auto thread cutter, a lock stitch, and a super intuitive computer screen.
And a plus for the seniors is there are 3 LED lights right on top of the needle that help you spot exactly what you need to sew. This Janome is a heavy, solid machine that easily sews through multiple layers as it was butter, making it absolutely perfect for all kinds of home crafts, including very heavy-duty projects and quilting, from piecing to free motion.
Perfect ¼" seams all the time.

It handles every fabric beautifully thanks to the automatic tension system. Never deal with tension again.

One of the quietest home sewing machines of the market. Sew at ease while others sleep.

Very easy to clean and maintain.

You may want to purchase the Janome Quilting Kit.

Extra wide table included.
As a minor issue, it lacks a low bobbin warning although it does have a clear case bobbin to check if you need to load more thread.
Budget: $$$$$$
Our rating:  icon-staricon-staricon-staricon-staricon-star-half
SEWING FEATURES
Included Feet: 1/4 Inch Seam, Blind Hem, Button, Darning, Embroidery, Overedge, Rolled Hem, Satin Stitch, Zig-Zag, Zipper.
Built-In Stitches: 200
Buttonholes: 6 One-Step
Free Arm: Yes
EMBROIDERY FEATURES
Built-in Designs: 175
Maximum Area: 6.7″ x 7.9″
This is the new version of Janome 9900 and it's just as robust and reliable as the previous model. 
It's the perfect machine for advanced users looking to combine sewing projects with some high-quality embroidery designs. It's also the ideal tool for amateurs and beginners who have found that embroidery is their new passion.
I'd say that because of its quality and price range, Janome 9850 is the best option with the embroidery capabilities that you'll find out there today. This is a given. There is no doubt that this high-end model delivers excellent stitching quality. It's a very smooth machine when stitching, and it's super accurate when quilting. And yes, with this model, you can also create beautiful quilts.
Sewing, embroidering, and quilting capabilities all in one single tool.

It handles every fabric beautifully thanks to the automatic tension system. Never deal with tension again.

Start/Stop Button and Speed Slider for complete manual control.

Easily create embroidery designs of industrial quality.
Does not include a case or cover.

It doesn't include a Knee Lifter.
Janome Sewing Machines Comparison Chart
*Speed Per Minute: referring to the number of stitches a machine can perform in a minute.
Click to rate this post!
[Total:

1

Average:

5

]
Some other articles you may want to read:
FAQs