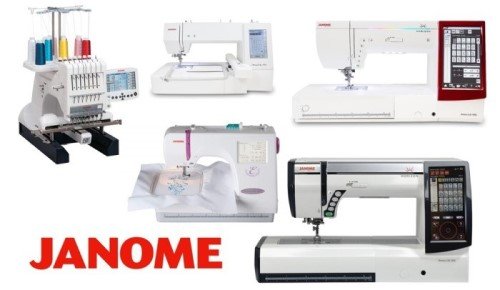 If you are looking for this brand in particular you most likely know that Janome machines are workhorses. They will last you a lifetime if you decide to invest in one of these and its quality can hardly be beaten.
Besides, they bring more valuable features than any other machine in the market at the moment. More than enough reasons to sum up in these articles all the best Janome embroidery machines reviews, to help you decide.
Now, a drawback for Janome machines is that accessories can be a bit expensive. However, these are made with such quality and sturdiness that it compensates the price by giving excellent results. Another important fact to take into account with Janome models is that embroidery areas and hoops are always larger than those from any other brand.
Top 4 Best Janome Embroidery Only Machines
Ideal for: All levels, from Beginner to Advanced. Perfect for Home Businesses.
A big plus for this quiet machine is the fact that you can digitize your designs straight on-screen. Besides, the speed of stitch and its quality will surely drop your jaw. Janome 400E works out of the box and considering that the embroidery area is as big as 7.9" x 7.9", this top-seller product has a fair price for the greatest of value.
All things considered, an irrelevant issue in some limited units is that, sometimes, the thread gets ahead of itself when being fed into the machine. Nonetheless, quickly solve it by raising the carrying handle and looping the thread through it.
To buy Janome 400E with an Exclusive Bonus Bundle, click here. It will only cost you a tiny bit more, and it is worth the money if you are a beginner.
Embroidery area of 7.9″ x 7.9″
High quality
Super user-friendly
Ideal for: All levels, from Beginner to Advanced. Perfect for Home Businesses.
New sister to the 400E model reviewed above, Janome 500E comes with spacious hoops and a big space to fit any project you can think of.
It comes with an Embroidery Editor for Windows computers but if with time you get more and more serious about this hobby, you might need to invest some budget in software or find another way to edit your designs to take good advantage of this beautiful machine.
You will feel happy you bought this machine if you want to perform great quality embroidery without getting any issues other than those from user error or for using cheap thread. It really is a go to machine if you appreciate excellent quality in both manufactured machine and produced stitches.
Embroidery area of 7.9″ x 11″ perfect for bigger designs
Auto return post thread break
Excellent quality stitches
Ideal for: Home Business Users who want a 4-needle machine to save time.
Multi-needle machines require a more substantial financial commitment than any other home machine.
However, like Janome MB-4S, they allow you to embroider much faster and, therefore, you can produce a larger number of designs in the same amount of time. This simple fact will convert your investment easily by helping you deliver faster. Of course, if you are an amateur and don't own a business unless you are starting soon, you shouldn't need this workhorse.
A significant advantage of a multi-needle model is that fabrics won't get stretched when being embroidered on. Also, a good option to save you from the sometimes annoying task of flattening garments to perform embroidery on them is to use a cap and hat hoop.
If you're looking to upgrade from a dual embroidery/ sewing machine, know that many of us regretted waiting for long before purchasing. In the end, with the return policy of most online shops, you can always give back your machine if unhappy. So, why keep thinking about it?
Use a mat to absorb all the vibrations from the machine.
Single head for hats
Programmable jump thread trimming
Winding Bobbin Motor
Auto return post-thread break
Ideal for: Home Business Users who want a 7-needle machine to save time.
Janome multi-needle machines have been told to run quieter than those from any other brand in the market so, if you own a home business, it could definitely help you and your family.
The main difference with Janome MB-4s is that Janome MB-7 will produce designs almost twice as fast thanks to it having nearly double the number of needles.
Deciding for one or the other would depend on one's budget and how many customers are waiting in line to receive their purchase.
Single head for hats
Programmable jump thread trimming
Winding Bobbin Motor
Auto return post-thread break
Very easy to learn and use
Top 3 Best Janome Sewing and Embroidery Machines
Ideal for: From Beginners to Pros. The perfect workhorse for a novice or even a home business.
This sewing and embroidery combo machine is the ideal tool for beginners who have found in sewing their new passion.
Janome 9850 is an ultra complete machine that will last them a lifetime allowing them to work in advanced projects and even set up their own small home business once they are ready to do so.
After all, for a very fair price, you get a reliable and easy to use sewing machine, with plenty of accessories included, and also performing embroidery and free motion quilting with an excellent quality of stitches.
Programmable jump thread trimming
Auto return post thread break
Twin needle guard
Automatic thread tension
Maximum Stitch Width of 9mm
Up to 3MB of memory storage
Speed Control Slider
Adjustable hoop positioning
10 Extra Feet Included
Ideal for: Experienced Crafters. Embroidering and Quilting Home Businesses.
Before falling in love with this model, be aware that it's been discontinued, although if you're really interested you migth still find some spare units around.
Janome 12000 is the dream of every home crafter. It can sew, embroider wonderfully and, thanks to its large throat, happens to be perfect for freehand quilting. Also, piecing and appliqué lovers will love how extensive their options are.
A massive advantage to this machine and newer models is that you can hook it up to a laptop or PC and use the monitor to see the finite details of your design. Besides, you can adjust each stitch to desire as well as copy and paste stitches when embroidering, which saves you loads of time on failed stitch patterns.
The package includes a free arm hoop to work on cuffs and sleeves, and the embroidery area is just huge, so unless you are stitching some endless design, I bet you won't need to be rehooping much. Such a lifesaver!
Some other brilliant options are a retractable high light and a surprising magnifier that will do wonders for those with tired eyes and working long hours.
Keep your manual close and expect a high learning curve since it has so many features.
Smooth-Running Machine
Very User-Friendly
Magnifying Glass
Ideal for: Experienced Crafters. Embroidering and Quilting Home Businesses.
Whether you want to sew, embroider or quilt, this machine is super easy to use, providing the most professional stitches at all times. It will definitely take your projects to a whole new level, and while the price is only for high budgets, if you dare to invest in this machine, be sure that your expectations will be exceeded and you will enjoy the experience to the fullest.
Moreover, this high-quality machine comes with the most comprehensive manual, and it actually automatically threads the needle - which I know is a feature that often does not work on other brands as well. In addition, its small yet long free arm will allow you to sew on the trickiest places you can think of, and with more enthusiasm and less itchy eyes since the light expansion and the magnifying glass will help you finish your projects with ease.
If you're lucky enough to afford this model, you'll get a real workhorse that can perform both heavy duty tasks as well as the finest embroidery stitches. If you want to upgrade your machine and you're used to having tension problems and bird nests, you'll really enjoy your time sewing and creating more and more projects thanks to how smooth and inspiring this sewing and embroidery machine is. Another thing you should know is that this machine is incredibly quiet so you can use it late at night without having to worry about waking up your family.
And considering how big Janome MC14000 is, the manufacturers have included 10 LED lights to make sure that every bit of surface is lit no matter whether you're working on a king quilt or embroidering a t-shirt.
Honestly, the only feature you could ask for - that next model, Janome 15000, includes -, is Wi-Fi connection to transfer all your designs from the computer straight to the unit. Or perhaps you'd rather save the extra thousands, get the Janome 14000, and use a cable.
Very User-Friendly.
Magnifying Glass Included super useful for small tasks and wary eyes.
Buttonhole Stabilizer Plate Included.
Knee Lifter that allows you to handle fabric with both hands while lifting the presser foot.
Automatic return after thread breaks.
Flexible stitch travel in increments of 1, 10, or 100.
Jump thread trimming and get rid of snipping loose threads.
High Budget
It will take you several weeks to figure out every corner of this machine as it has more features than you'll probably ever use.
Janome Sewing and Embroidery Machines Comparison Chart
Let's compare the Janome embroidery machines, 400E vs 500E vs MB-4S vs MB-7S vs 9850 vs 12000 vs 14000.
*Speed Per Minute: referring to the number of stitches a machine can perform in a minute. **Area: referring to the maximum embroidery area that an embroidery machine can reach.
Buyer's Guide for Janome Sewing and Embroidery Machines
Janome Free Embroidery Software Options
At EmbLibrary you can buy cheap designs and even get a free one for your birthday.
If you download SewArt, you can digitize your designs with a trial of 30 days.
You could convert your designs into the required format. Find some videos below and learn how to do so.
Click to rate this post!
[Total:

1

Average:

5

]
Some other articles you may want to read:
FAQs
What is the best Janome embroidery machine?
Unless you want to buy the latest Janome HMC15000 for more than 12k, its little sister, Janome HMC14000 has already more features than any hobbyist could ask, for half the price.
You may want to read a review of the best Janome embroidery machines, including Janome 14000.
Is Janome a good sewing machine brand?
In fact, it is. Janome proudly stands up in the scale of quality brands together with the Swiss brand, Bernina.
With Janome, you are buying the so well-known Japanese quality.
Is Janome better than Brother?
Although both brands are from Japan, and Brother is always a good bet for any sewist, the reality is that Janome offers higher quality in their manufacture, which reflects in both durability and price.