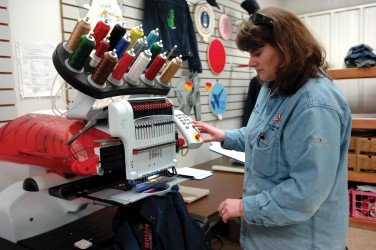 Many once Singer-loyal users of the brand, have complained that in the last decades, the quality of its manufacture has diminished to an unexpected level.
Hence, you'll only find here quality manufacturers like the Japanese Brother or Janome. These brands are widely used, and finding an embroidery service repair place or replacement parts will be much easier.
Tools your embroidery machine for shirts and hats will need
If you're a beginner you might be surprised by all the things you'll need apart from the best embroidery machine for shirts on the market, which you can choose from below.
All the different thread colors you want to use.
A good stabilizer to prevent the fabric from stretching out of shape during the process.
Embroidery machine needles.
The right size hoop for your design so, double-check the different sizes your new machine allows.
Embroidery design file for your type of machine.
How to Choose the Best Embroidery Machine for Shirts and Hats
Buying an embroidery machine for shirts or hats depends on many things like the budget or one's desired features.
1. That's why doing good research online and finding the right YouTube channels to guide you after buying your chosen model might be all you need. You could also check for some lessons at your nearest shop if you prefer it. 
2. Always go for the largest embroidery area that you can afford. And not to forget there is a difference between the maximum embroidery area and hoop size. You will easily outgrow a machine that has a smaller hoop size capability. Remember, the higher the maximum embroidery area, the better.
3. The cheaper machines you will find in this article are considered low-end and will perfectly serve beginners and amateurs of all ages. However, if you are starting a small business, you may want to go for the more high-end models and multi-needle machines.
5 Tips before using your embroidery machine for shirts and hats
1. Before embroidering on your t-shirts and shirts, we recommend you washing and tumble drying the items first to keep them from shrinking after embroidering on them. Besides, giving it a wash will get rid of excess dye on the fabric that could potentially stain your design once embroidered.
2. Study well the different types of stabilizers in the market before deciding on one. Not all of them work for the same purpose and using the right one can make all the difference.
3. Always test the process and the design on some old t-shirt or cap before stitching the final item. Designs with loads of details can easily get puckered if you don't know what you are doing. If you don't have much practice, we recommend you going for more simple designs before getting into the more advanced ones. Remember that practice makes perfect.
4. Always use the smallest needle that your machine and design can take since using a larger one might ruin your design. Double-check your machine manual to find out which needle to use. Try to match the size of your design with the hoop size.
5. Use the right hoop size: using a much larger hoop than what the design really needs could turn out in stretched fabric and puckering.
What Machines You Should Avoid Buying to Embroider on Shirts and T-Shirts
Do you want to know my number one tip for all of you potentially buying an embroidery machine to embroider on shirts and t-shirts?
The embroidery area of your new device should always be 5" x 7" or bigger.
Unless the sole purpose of your new embroidery machine is to embroider your very small motifs or your company's logo on every employee's t-shirt, buying a machine with such a reduced maximum area is not worth the price. After all, if any embroidery machine with a larger maximum area will also allow a smaller size hoop if you ever want to embroider a logo, why would you want to limit yourself?
When to buy an embroidery machine with a 4″ x 4″ maximum area?
I can only recommend you buy a machine with a small embroidery area for shirts and t-shirts if you just want to keep embroidering very small designs on shirts or if you're ready to put a lot of effort into re-hooping once and again to cover the whole design.
It's also a great option if you just want to embroider small logos or if you'll only be using it to embroider on hats and caps.
Top 5 Best Embroidery Machines for T-Shirts and Hats
Ideal for: All levels. #1 Bestseller Embroidery Only Machine.
Budget: $$
Our rating:  

icon-star

icon-star

icon-star

icon-star

icon-star
Included Feet

:

Embroidery.
EMBROIDERY
Built-in Designs: 138
Speed per minute: 850
On-Screen Editing: Yes
Area: 5″ x 7″
Brother PE800 is the latest embroidery-only model and the upgrade of the past bestseller from the brand, PE770.
The Touch LCD Screen got a nice upgrade from a scale of greys to Color, and it now brings you the possibility to edit your hats and t-shirts designs by allowing you to rotate, mirror image, plus increase and decrease the size of designs. Now you change details last minute and save time from computer editing.
You will also benefit from more than a hundred built-in embroidery designs and a high speed of stitches per minute for a fair price.
It happens to be the #1 bestseller on embroidery machines thanks to all its features and its amazing price/quality ratio over quality. Whether you will be embroidering your company's logo or a t-shirt or onesie for your niece, this unit has you covered since it allows you to use small, medium, and large hoops.
  If you already own a PE770 and want to upgrade, know that any hoop you bought for it is compatible and will snap into the Brother PE800.
What you'll like:
Good price for its quality.
Friendly user
Great learning curve for beginners.
#1 Bestseller for Embroidery Machines.
Ideal for: Home Business Owners. High budget.
Budget: $$$$$$$
Our rating:  

icon-star

icon-star

icon-star

icon-star

icon-star
Included Feet

:

Embroidery.
EMBROIDERY
Built-in Designs: 50
Speed per minute: 10
On-Screen Editing: Yes
Area: 9.46″ x 7.9″
If you're an amateur or a professional with a big budget, this might be your perfect choice. However, for beginners, this machine is a bit pricey.
Janome MB-4S is the perfect four-needle embroidery machine for all of you wanting to embroider hats and t-shirts. It even has a single head accessory for better working on caps and several hoops to choose from for your different pieces of clothing shirts and t-shirts. This unit makes it ideal for sewists who need a specific machine for this matter. 
With this multi-needle machine, you won't need to flatten any more caps or hats before performing on them, saving you loads of time to invest in other tasks.
It also comes with advanced on-screen editing functions to make it easier for you to edit last minute, stitch counter so the machine knows when it's time to cut the thread, embroidery area tracing, extra-large bobbin to avoid changing it every other minute, adjustable hoop positioning for a better-looking design, as well as other functions like sensors on the upper thread and the presser foot or stitch-out time indicator.
Regarding the hoop options that can be used, this unit allows four sizes of Janome hoops and six industry-level Tajima hoops to expand your possibilities and embroider any design you want. All these options you have to buy separately, of course.
If you have your own embroidery home-based business and need an upgrade, this is probably the machine you should have next before going entirely professional and externalizing your production. A big investment that will quickly pay for itself soon enough before giving you big benefits.
  It allows professional formats like .jef+, .jef, and .dst.
What you'll like:
Single head for hats
Time saver thanks to the four needles
Jump thread trimming
Winds new bobbins while the machine is working
Post-thread break auto-return
Very easy to learn and use
To take into Account:
Price is quite high for beginners
No foot pressure adjustment
Embroidery Only
Ideal for: High quality for all levels, from Beginner to Advanced Sewers. Perfect for All sorts of Crafts.
Budget: $$$$$
Our rating:  

icon-star

icon-star

icon-star

icon-star

icon-star
Included Feet

:

1/4 Inch Seam, Blind Hem, Button Sewing, Darning, Overedge, Rolled Hem, Satin Stitch, Zig-Zag, Zipper.
EMBROIDERY
Built-in Designs: 175
Speed per minute: 800
On-Screen Editing: Yes
Area: 6.7″ x 7.9″
SEWING
Free Arm:

Yes

Decorative Stitches: 200
Speed per minute: 1000
If you want a solid, excellent quality sewing machine that also does embroidery and free motion quilting, without spending a big fortune, take a close look at this model.
Janome 9850 is highly reliable if you are working on advanced projects since it includes sewing features for all kinds of craft projects so you can continue using it on quilts, curtains, clothes or whatever you wish after you are done embroidering your caps and t-shirts.
For you beginners, this machine will help you with all tasks making sewing foolproof. Of course, there is a learning process but its ease-of-use will drop your jaw. Even a five-year-old can use it when watched thanks to the start/stop bottom. Besides, this sewing and embroidery machine comes with a specific on-screen feature where you can click on the T-shirt icon, and it takes you into a techniques menu, that includes appliqué embroidery, guiding you along the way.
To sum up, if you have a high budget and you'll be sewing and embroidering non-stop, Janome 9850 is your best option. It's definitely my number one favorite overall machine and can't wait for people to stop rating it for the price and start focusing on the 5 over 5 price-quality that it offers.
What you'll like:
Free motion quilting
Stitches are highly accurate
Maximum stitch width of 9mm compared to regular 7mm
Up to 3MB of memory storage
Ideal for: Perfect for Beginners for its low learning curve. #1 Bestseller Sewing and Embroidery Machine.
Budget: $$$
Our rating:  

icon-star

icon-star

icon-star

icon-star

icon-star
Included Feet

:

Buttonhole, Overcasting, Monogramming, Zipper, Zigzag, Stitch Guide, Adjustable Zipper/Piping, Non-Stick, Open Toe, Embroidery, Blindstich.
EMBROIDERY
Built-in Designs: 138
Speed per minute: 650
On-Screen Editing: No
Area: 5″ x 7″
SEWING
Free Arm:

Yes

Speed per minute: 800
Decorative Stitches: 240
This machine is the perfect multipurpose machine from Brother and the cheapest in its range that can efficiently perform embroidery on t-shirts and hats. It's especially suitable if you are a beginner in the process of learning how to create your first decorated t-shirts and hats.
With Brother SE1900, the maximum embroidery area is 5" x 7" although this machine can use a multi-positional hoop (12" x 5") for larger designs, unfortunately, it won't work with an endless hoop.
Maybe one of the reasons why this model has been a #1 Amazon's bestseller for so long is the quality of embroidery that offers together with its low price. 
It is perfect if you're a beginner sewist and when using the right needle size (14), a great tool to create fun designs on baseball caps and hats.
  What is the difference between the SE1900 and the PE800? Embroidery-wise, they are just the same. On the sewing side, the PE800 is an embroidery-only machine while the SE1900 can also sew and has auto tension and My Custom Stitch.
What you'll like:
Best one-in-all machine for beginners
Free motion quilting
Perfect for home use
Cheapest in its range
Portable and lightweight
To take into Account:
The maximum embroidery area is 5" x 7"
No free arm for sleeves and cuffs
Ideal for: HIghest Quality for All levels. Perfect for Hats and T-Shirts for its large embroidery area.
Budget: $$$
Our rating:  

icon-star

icon-star

icon-star

icon-star

icon-star
Included Feet

:

Embroidery.
EMBROIDERY
Built-in Designs: 160
Speed per minute: 860
On-Screen Editing: Yes
Area: 7.9″ x 11″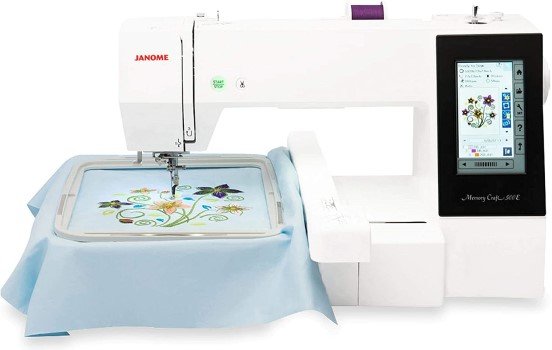 Some of the things you will love about this model are that you can digitize designs straight on the machine saving you loads of time, which is a big plus for any busy person.
Janome 500E is both quiet and fast to let the children take their naps and have the garments finished before they gave up. Besides, the quality of stitches will drop your jaw.
This Japanese product is of great value and for a fair price. Also, know that it comes with a maximum embroidery area of 7.9″ x 11″ which allows you embroidering much bigger designs on t-shirts and jacket backs.
A drawback for Janome machines is that accessories can be a bit expensive. However, they are made with such quality that it compensates the price by giving you excellent results and you'll see that it works out of the box like no other.
Janome machines are workhorses. and if you add the fact that this particular model has one of the biggest embroidery areas in the market, it becomes the perfect tool for your shirts and t-shirts. This machine will last you a lifetime and its quality can only be beaten by industrial embroidery machines. Besides, they offer you more valuable features than any other machine in the same price range.
What you'll like:
Large Embroidery area to fit bigger designs.
Auto return post thread break.
Excellent quality stitches.
To take into Account:
Embroidery Only.
Higher price than bestseller Brother PE800.
Comparison Chart – Best Embroidery Machines For Shirts and Hats
*Speed Per Minute: referring to the number of stitches a machine can perform in a minute.
**Area: referring to the maximum embroidery area that an embroidery machine can reach.
Some other articles you may want to read:
FAQs
What is the best embroidery machine for T-shirts and hats?
It depends on your budget and the main purpose of the machine. For home use machines and to achieve an excellent quality of stitches, choose any Janome embroidery machine. If your budget is a bit tighter, a very good option could be a Brother embroidery machine.
What is the best embroidery machine to start a small business?
Any Janome model that can embroider will serve you perfectly fine. Brother is also a good brand if you choose wisely.
For hat embroidery small businesses, the ideal machine could help your new business run smoothly from the very beginning.
What is the cheapest embroidery machine?
The cheapest machines that you will find on the market today and that have very reasonable quality for the price are Brother PE535, Brother PE550D Disney, and Brother SE600. Read reviews.