Nowadays, owning a leather stitching machine to work on different leather items or any other heavy-duty materials is at everyone's reach thanks to the inexpensive cost of hand-operated sewing machines.
In this article, you will find prices for all pockets as well as several machine styles for every leather crafter. Stay tuned, and be amazed by the list of hand crank sewing machines for leather that we have chosen for you.
Top 7 Best Hand Leather Sewing Machines
Best Hand Powered Leather Sewing Machine.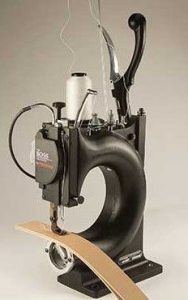 The ever-famous Leather Tippmann Boss is a portable hand powered stitcher that can be mounted or clamped to any surface.
With every pull of the handle, the needle will easily stitch through any piece of leather of up to 19mm.
Compared to the hand crank Yeqin machine below, while Yeqin can reach places where the Tandy Tippmann could only dream thanks to its deep throat, the Boss can sew through much heavier layers of leather than the Yeqin, and with a quality that no other hand-operated machine can compete with.
If you were expecting a full cast iron mode, know that manufacturers decided to change the material for aluminum for lighter weight and easier portability. The downside is that even if it will last for ages to come, durability has been reduced.
What you'll like:
Stitches through several layers of leather like it was butter
Super high quality of stitches
Lightweight
Cylinder Bed
To take into Account:
It's quite expensive for what it does
Shallow throat
Best Hand Crank Leather Sewing Machine.
This hand crank leather patcher sews at a low maximum speed and its head rotates in any direction by moving a handle, which makes it perfect for sewing on leather. In fact, this model by Yeqin was specially designed for leather crafters.
Know that it cannot be considered as a walking foot machine as the feed dog doesn't move simultaneously with the upper foot. It is what we call a jump foot machine and it has the possibility of being used by hand or by the motor.
This dual usability together with its horizontal cylinder bed makes it a great option for leather makers that don't want to spend a fortune on a more professional machine but would love the motor possibility that other hand-operated sewing machines can't offer.
Oh! And be prepared to do some minor assembly and sanding for proper operation.
What you'll like:
Super deep throat
Can be used by hand or mechanically
Horizontal cylinder bed ideal for bags, saddles, shoes, hats, etc.
To take into Account:
Minor assembly and sanding might be needed
Every cobbler sewing machine chosen for our top list is equally good for the money… and bad. Keep reading to find out why.
You probably know that these hand-operated sewing machines are the cheapest version of what cylinder-bed sewing machines can achieve. The reality is that, if you already have a flat-bed machine for leather, or even if you don't, a cobbler sewing machine can be your best option to repair all sorts of items with tricky corners that have difficult access such as those of leather shoes, boots, sneakers, leather jacket shoulders or bags.
They only cost a bit over a hundred dollars and can be real life-savers when working with certain items. I love how we are now going back to basics, to our roots, and getting interested in these simple machines that are so common in countries like India or Morocco. 
And because many times cobbler machines will arrive straight from Asian or African countries, be ready to clean oil excess right after unpacking. 
The truth is that, on many occasions, these machines come in a doubtful state but, thanks to the full cast-iron structure, all it takes is some cleaning to make it usable. Besides, dealers are surprisingly nice and still understand how to provide the best customer service including quick delivery, a full refund, and some months of warranty.
Lastly, be ready to discard the nylon web included in the package and use your own good quality thread and leather needles.
What you'll like:
Super affordable
Long-life durability
To take into Account:
Unstable tripod
Needs a strong surface as a base
Rough edges must be fixed to avoid scratches
Hand Sewing Machines Comparison Chart
*Speed Per Minute: referring to the number of stitches a machine can perform in a minute.
Buyer's Guide: Hand Leather Sewing Machines
What to know before deciding on a specific Hand Sewing Machine for Leather?
Sewing Area and Space Size
It sounds pretty basic, but a common mistake for people buying a new sewing machine is not considering how much space you are going to need, first, to place the machine itself and second, to actually work with the different fabrics and garments.
You may also want to have a look at different sewing cabinets if you don't have one yet.
  Always measure the space where you will be using your new sewing machine.
Price of a Hand Leather Stitching Machine
The cost of hand sewing machines specially made to sew through heavyweight materials varies from $120 to $1,000.
Since hand-operated sewing machines can cost very little and can typically stitch through very thick pieces of leather, I believe that if you don't want to spend a lot of money on an industrial machine that can only sew straight stitches, having one of these might be the perfect addition to your sewing space.
Must-Have Tools to sew Leather with a Hand Crank Sewing Machine
Some special accessories that you will need are:
· Leather Sewing Needle
As you might know, if you want your sewing machine to work on leather, you'll definitely need a leather needle. And that's because the leather is thicker than most other material, so the needle needs to have a specific type of bottom point to easily stitch through the leather you want to use. If the needle continues to break apart, then you probably are using the wrong type. It's that simple. And yet, because leather needles get dull with continuous use, they give in and eventually break so I suggest you store at least one or two spare needles.
· Leather thread
Using the correct thread will save you loads of breakage and time. Besides, when using the right thread, your pieces will look a lot more stylish and will last longer.
· Leather Toolkit
There are many different tools to work the leather so, if you are a beginner, you may want to get hold of a basic kit.
· Walking Foot
This accessory will allow you to stitch the leather without persistent slips. Remember that you need either a walking foot or a silicone sticky one to sew on the leather. Otherwise, feed dogs won't perform, the needle will sew where it's not meant to, and your creation will now be messed up.
If you know you will continuously work on heavy-duty materials, you should probably buy a machine with a built-in walking foot, instead of adding an accessory. Have a look at the Best Walking Foot Machines for Leather.
· Powder
If you add some powder to the area to be sewn, the chances of leather sliding around would be minimized.
Sewing Leather with a Hand Sewing Machine
You must know in advance that the leather must be treated with special care as it can easily get scratched. Also, know that leather is heavier and harder to handle than any other material. You will have to use different sizes of needles and thread sizes depending on the final look you want to achieve. 
Some tips on how to sew leather on a hand sewing machine
The most important thing to remember is that leather is a very fragile material. If a stitch is made, there is no way back, so you must be sure of what you are doing before proceeding. You may also practice on a small piece of leather before you stitch the actual item.
When you want to stitch two pieces of leather together, you may want to pin them together, use leather glue or a quick double-sided tape.
If you are using a home sewing machine, assuming that you may not have a walking foot, try and put some basic powder on it. This trick will prevent the foot from getting stuck to the leather. You could also use a non-walking foot made out of plastic. The result? Your leather piece won't get stuck, and your stitches will be more precise.
A thing to take into consideration if you're a beginner? Start by sewing the simple bits to get some practice in before going to the hard pieces.
To easily add quality to the piece, cut the thread off and burn the end carefully with a lighter once you have finished sewing. Finally, pass over your finger. The leather doesn't get damaged and the stitches won't get loose.
Many more tips would work, but those are the fundamentals. At a larger scale, get premium leather tools as well as plenty of practicing if you want to create a quality product. Ah! And, train, learn, and train again!
Leather Sewing Needles and Thread
We often rest importance on the size of both the needle and thread that we use when it's, in fact, the main cause of our issues. And, no. There is probably nothing wrong with your new machine. You simply have to learn new skills and habits, and always remember these three key points:
the size of the needle that your machine is able to handle (check your machine's manual);
the needle size you must use for a particular material;
and, the size and material of the thread you need to use.
Needle and Thread for Leather Sewing Machine
The leather sewing needle and the correct thread are two special accessories that you'll definitely need if you want to use a standard machine or hand stitch.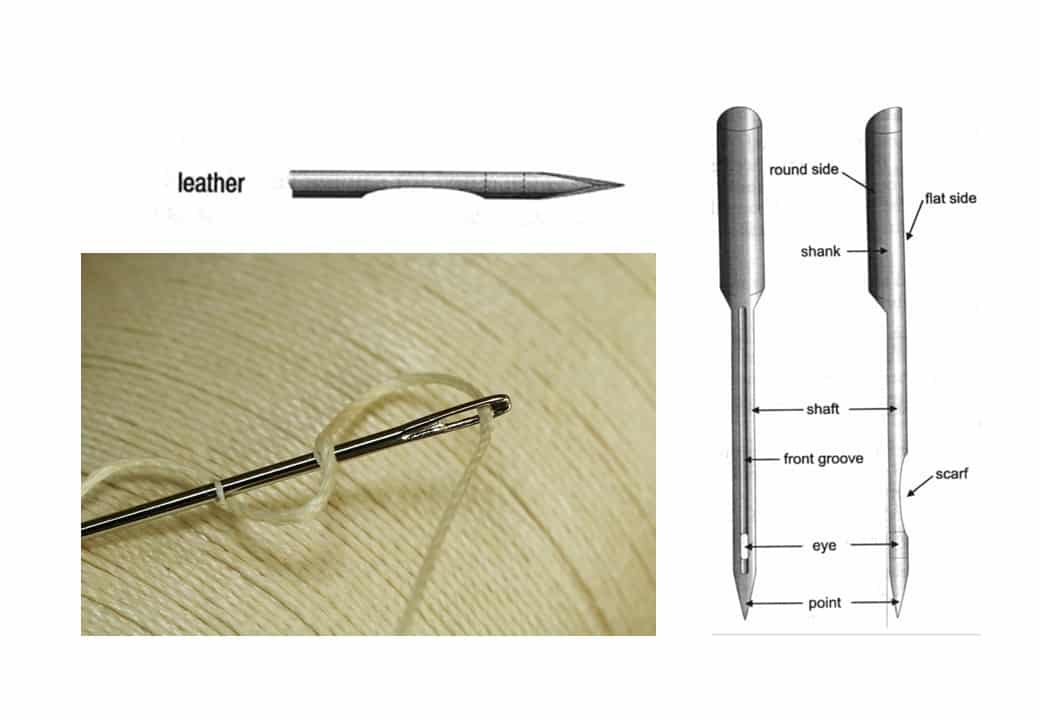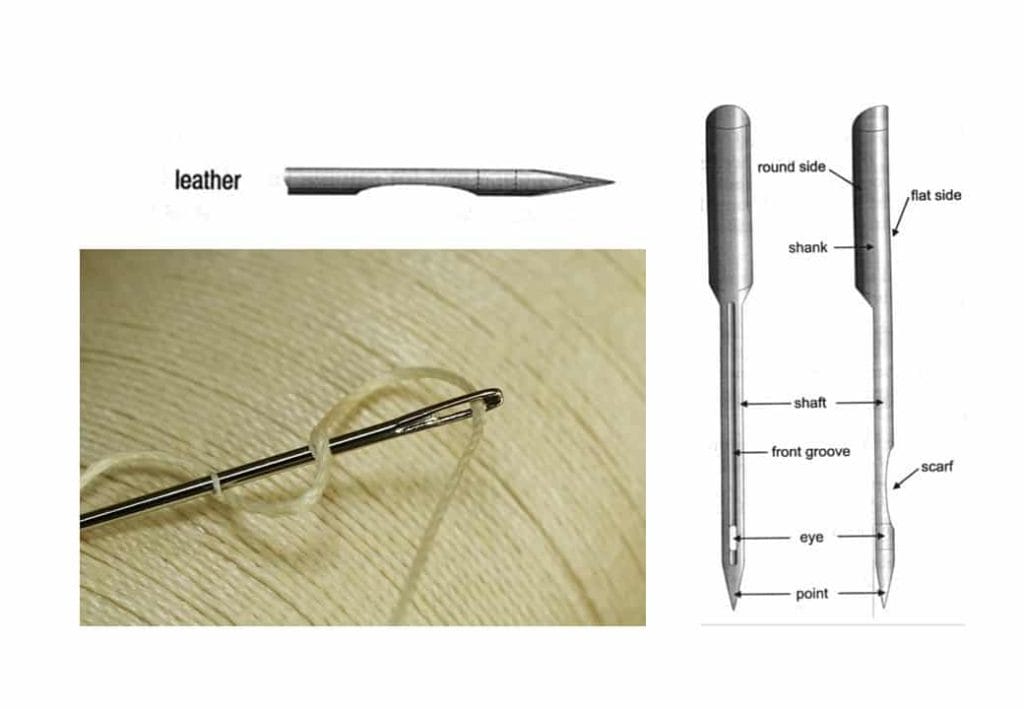 Leather needles have a particular type of bottom point that can effectively stitch through the leather you choose to use. If your needle keeps breaking, you could be using the wrong one. It's just that easy.
Nonetheless, once a leather needle gets unsharpened, it gives in, and inevitably breaks off, so always store at least one or two spares.
Since leather is so hard to stitch, you're going to need a thread that resists the stress that's going to be put through. A couple of things are to be considered. The very first is the size of the needle for the material. The second one is the thickness of the material to be sewn. And then there is the effect of the stitches you want to create. And depending on all those, you're going to need a different thread texture, color, and composition.
The most widely used ones are made of nylon or polyester. In general, assume that the finer the fabric, the smaller the thread and the needles will be, as the wrong size would either damage fragile materials or make the thread break frequently due to over-tension.
And, again, note that you need to select the appropriate material width, needle size, and thread weight, or the machine could get jammed.
Needle and Thread for Hand Sewing
As you know, if you want to sew leather by hand, you'll undoubtedly need a leather needle. And that's because of leather being tougher than any other material.
Nowadays, you can easily buy online inexpensive leather toolkits and even use them to prepare and finish the leather pieces before hand-crank sewing them.
In the end, the tricks mentioned above for a hand sewing machine work just as fine when hand stitching leather, and if you make a habit of always double-checking the needle size and thread that you need for your project, you will avoid material waste after using the wrong accessories.
Maintenance and operation for Hand Operated Machines
1-. It is necessary to increase the active part of your sewing machine every day to ensure that the machine is easy to operate, doesn't produce noise, improves work efficiency, and has a longer service life.
2-. Adjust the stitch length depending on the sewing material you are going to use. When the stitch length is long, simply loosen the needle length screw. When the stitch length is short, the seam moves up.
3-. If you are working on a thick material or object, the pressure should increase. At this point, the tension spring nut can be tightened to increase the tension spring tension, thereby increasing the pressure foot pressure and vice versa.
Some other articles you may want to read: 
FAQs
What kind of sewing machine can sew leather?
If you have a high budget and will be sewing leather non-stop, the ideal sewing machine would be a walking foot sewing machine. However, if your budget is less than a few hundred dollars and you are handy, you might want to check a cobbler sewing machine. They do wonders and will last you a lifetime.
Can a regular sewing machine sew leather?
Any sewing machine can sew leather with the right foot and knowledge. Nonetheless, its motor could get damaged and eventually stop working as it hasn't been designed to stitch through heavy-duty materials.