Whether you're an ambitious tailor looking for new challenges, or a budding entrepreneur hoping to expand your small business, in this article you will learn what is the best industrial sewing machine for home use that you can buy today.
By increasing your investment, you can often get a professional stand-alone cabinet machine that will be a great asset when growing both your sewing skills and business.
Must-Have Features When Choosing The Best Industrial Machine
Below you will find some basic features that any good industrial machine should have:
– An even-feed or walking presser foot is a crucial accessory for those hoping to undertake leatherwork.
– If you don't buy a machine with a walking foot, you'll need to acquire a walking or rolling presser foot accessory.
– Make sure that the pressure foot is the right height for the project you are working on.
– Check your machine for what thread sizes it will be compatible to work with.
– Be sure to install a speed reducer for detailed stitching.
– Decide whether you want a flatbed table or a cylinder head on your machine.
– You will need proper industrial machine needles for each kind of material you plan to work with. An easy way to see if you have the right one is to have a look at the top part of it. If it is completely round, you're good to go. If you see a flat side, what you actually have in your hands is a leather needle specifically designed for home sewing machines.
Best Industrial Sewing Machines Reviews
Ideal for: Light to Medium Weight Materials.
Budget: $$$$
Our rating:  

icon-star

icon-star

icon-star

icon-star

icon-star-half
Speed per minute:

1,500

Weight:

25.4lbs
Free Arm:

No

Built-in Stitches: Straight Stitch Only
Included Feet

:

Standard, Zipper, Even Feed, ¼ Quilting.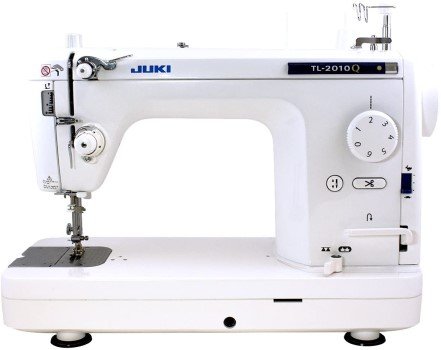 Although the Juki 2010Q is not an industrial model, I've decided to include it here because of its price and capability.
The Juki 2010Q is an affordable straight stitch-only home machine that comes very close to most industrial models thanks to its power and size. It can sew with or without a foot pedal (it has a switch) and it doesn't need to be mounted to sew with it so you can use this machine anywhere in your house without much hustle. It's also super easy-to-use and it sews forward and reverse.
Compared to the industrial most affordable models what makes this Juki stand is its free arm that'll allow you to sew cuffs and collars on garments. Of course, you can find industrial machines that serve this purpose but their prices are at least double what you'll pay for this bestseller. Another plus compared to commercial models is the lower noise levels of its heavy-duty engine.
Apart from an auto needle threader, this Juki sewing machine offers an automatic thread cutter which is basically a system that cuts the thread when you stop sewing. You might not know it now but these two features combined will save you loads of time and thread waste.
On the other hand, the lack of a walking foot within its key features might be an issue when using many layers of fabric in your sewing projects. Nevertheless, that's easily fixable by purchasing an extra one.
What you'll like:
A speed of 1,500spm that you can move around the house for quick projects
Easily carry its powerful engine around the house for quick projects
Even if it is not an industrial model, its hybrid capabilities can easily become a good asset for your household
Things to Consider:
Machine does not come with a walking foot although is compatible so you can just purchase one
Ideal for: Light to Medium Weight Materials.
Thread Size:

#65 – #110

Needle Size:

#9 – #18

Maximum Stitch Length:

5mm
Speed per minute:

5,500

Needle Bar Stroke:

30.7mm

Presser Foot Lift:

13mm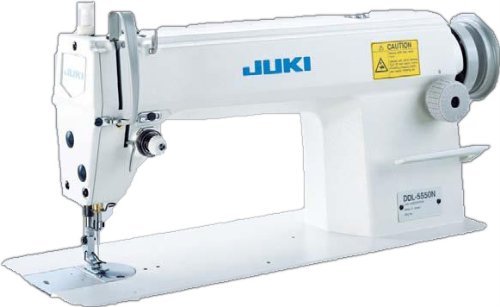 This model is one of a kind. The Juki brand is synonymous with affordability and reliability, this, coupled with the fact that these machines come from Japan, make them worth a few extra dollars. The Juki DDL-5550-N compares favorably with the bestselling Juki DDL-8700, retaining the Japanese manufacturer's quality touch and the perfect model for making clothes and all sorts of other garments.
And thanks to its servo motor, the Juki 5550N can handle medium-weight fabrics with ease—all while still operating incredibly quietly.
In addition, if you're new to using industrial machines and aren't used to the high speeds that they run at, you can adjust the servo motor lower until you get the hang of it. Soon you'll realize that these machines are easier to use than any home model.
Another useful feature is the automatic bobbin winder. This allows you to sew and wind simultaneously as the winder will stop automatically once it's full. This feature will save you from unnecessary effort and allow you to stay focused on your sewing at the same time. If you want an industrial machine that can be used on medium-weight materials other than leather, this machine is a great choice for you.
You'll soon see that the Juki DDL5550N controls even the slipperiest leather with the right accessories. Simply use the right leather needle and foot accessory.
Finally, in addition to the included servo motor, this model also has a built-in sewing table. The machine is delivered via pallet and arrives fully assembled—at no extra cost—saving you time and money in the process. However, it is quite a hefty machine, so if you live in a two-story house and your sewing room is upstairs, you might want to consider hiring a mover for help, it is that heavy.
Of course, the positive to all this is that the machine comes ready to sew almost out of the box. Just screw the thread holder, lubricate with some oil, plug it in, and that should be it! Your sewing machine is all good to go!
What you'll like:
Bobbin winder to save you time
Peace of mind knowing you have a quality "Made in Japan" product
Includes Servo Motor & Table
Fully assembled
Things to Consider:
Machine does not come with a walking foot (but is compatible with them as separate accessories)
Ideal for: Delicate Leather, Suede, and Other Light Materials. Medium and Thick Leather (with Walking Foot Accessory. Other Medium to Heavy Materials.
Budget: $$$
Our rating:

icon-star

icon-star

icon-star

icon-star

icon-star-o
See More Specs
Thread Size:

#65 – #110

Needle Size:

#9 – #18

Maximum Stitch Length:

5mm
Speed per minute:

5,500

Needle Bar Stroke:

30.7mm

Presser Foot Lift:

13mm
This Juki DDL8700 it's been a bestseller in the commercial category for decades now, and some useful improvements that Juki recently incorporated into this model's design include an easier to adjust feed dog along with a thread take-up lever. This will help increase efficiency and improve stitch quality when working with different materials and make this machine an even better value.
Another good thing about Juki machines is their ease of use. This coupled with their outstanding responsiveness and renowned reliability make Juki machines a joy to own and operate. Most importantly, you will create seams of a consistently high quality—no matter the material.
And don't worry if you don't have the perfect spot for your new machine, even if you only buy the head, a mounted seat is included in the package that can be used to secure it until you get a hold of a suitable sewing table.
Consider adding the optional servo motor to your machine, as it will produce less noise and vibration and help produce a comfortable sewing environment for you and your family.
Feel free to have a look at the
Juki DDL8700H
( H for High) as it has been specifically manufactured for use with medium to heavy-weight fabrics, making it an ideal machine for those that often work with materials such as denim, vinyl, boat canvas, or curtain. This is in addition to its utility when working with medium-weight leather. Simply use the proper needle size for your medium, typically ranging from 16 to 22.
What you'll like:
Bestseller in the Industrial Category
Things to Consider:
This is a Non-Walking Foot Machine (Requires Additional Foot Accessories)
Ideal for: Thin to Thick Leather and Other Heavy-Weight Materials.
Thread Size:

#46 – #138

Needle Size:

135 x 17

Maximum Stitch Length:

9mm
Speed per minute:

2,500

Needle Bar Stroke:

36mm

Presser Foot Lift:

13mm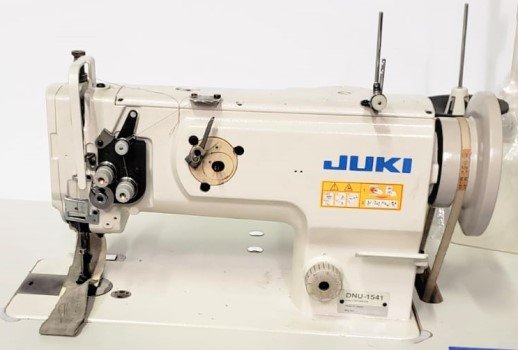 The Juki DNU-1541S comes with almost everything you need included with the unit. That includes the head of the machine, a built-in industrial table, a stand, a clutch motor, a sewing light, and a drawer—with all the necessary components pre-installed so you are ready to sew!
If you're looking for an industrial model, this is the best walking foot machine for the money as it can easily stitch through multiple layers of leather without a problem. And as anyone who has worked with leather already knows, sometimes you need the ability to slowly stitch tricky areas such as corners. This is where the precision control of the foot pedal that this model uses really shines, it is insanely sensitive and perfect for just such tasks!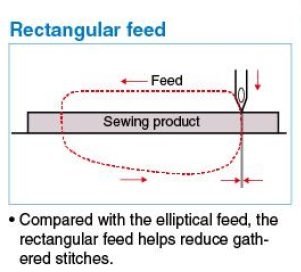 If you've ever had problems with stitch gathering, you'll be happy to know that this machine has features in place to guard against this. The rectangular feed motion prevents the needle from fraying and ensures consistent feeding of materials no matter their thickness. It also has a double-tension mechanism that offers superior responsiveness.
Like many other units from this list, the Juki 1541S only performs straight and reverse stitches. After all, what sets this machine apart is the speed and quality that it delivers regardless of how heavy of a fabric you are working with
Wondering what the 'S' stands for at the end of the Juki DNU-1541S's model name? Well, the S stands for "Safety Motor" and it refers to a safety feature that cuts power to the motor automatically if any issues are sensed during sewing to prevent further damage. If this feature is of no interest to you, feel free to save some money and go for the Juki DNU-1541 instead.
What you'll like:
Rectangular Feeding, See Review.
Double-tension Mechanism
Things to Consider:
Clutch Motor Included (Will Require Servo Motor for Leather Use).
Ideal for: Thick Leather and Other Heavy Materials.
Budget: $$$
Our rating:  

icon-star

icon-star

icon-star

icon-star

icon-star-half
See More Specs
Needle Size:

#18 – #23

Maximum Stitch Length:

6mm
Speed per minute:

800

Needle Bar Stroke:

30

mm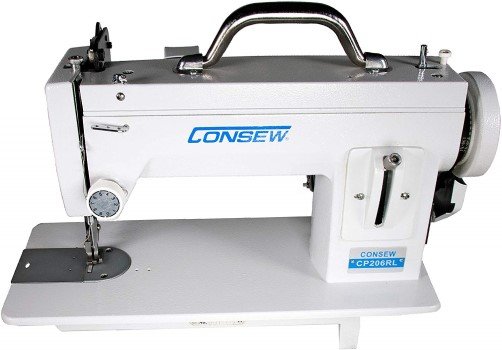 This walking-foot Consew model is highly portable and comes with a carrying case that makes it perfect for taking to and from sewing lessons or just for storing away. This machine also has an extended working surface that easily folds up when not in use.
The CP206RL is perfect for leather sewing, in fact, it's a straight stitch workhorse that has been manufactured for heavy duty work and is capable of up to 800 stitches per minute.
Every detail of this machine has been designed to help easily manipulate thick fabrics: from the stitch length regulator to the high clearance under the foot and bottom dual feed capabilities—this machine is a breeze to operate!
Things to Consider:
Needs Oiling Before Use
Requires a Speed Reducer for Leather
Included Foot May Scratch Leather
Ideal for: Thin to Thick Leather and Other Heavy Materials.
Budget: $$$
Our rating:  

icon-star

icon-star

icon-star

icon-star

icon-star
See More Specs
Needle Size:

135 x 17

Maximum Stitch Length:

10mm
Speed per minute:

3,300

Presser Foot Lift:

14mm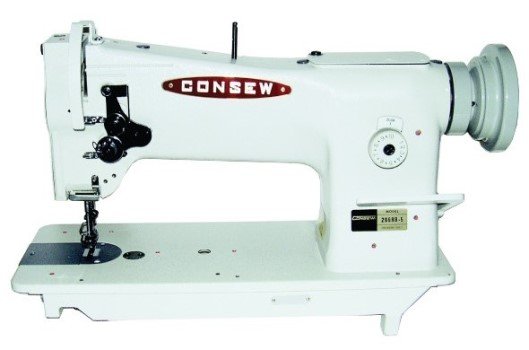 The Consew 206RB-5 is a walking foot industrial sewing machine and it's the manufacturer's #1 selling product worldwide.
Commonly use for upholstery and leather making, it's a flatbed machine with a large throat plate (18″) and multiple needle positions making it also ideal for quilting wide objects like sleeping bags, upholstery work, etc. Besides, it uses large bobbins (3/4″ diameter) meaning that you will need fewer thread changes.
The 206RB-5 also benefits from a needle up/down button allowing for reliable feeding with most materials by preventing them from forming a pile under the presser foot or for stopping in thick layers sewing backward and forwards with each press of the pedal. Its feed system is constantly powered by a belt drive system, so even if you are sewing at high speeds or in very difficult conditions it will keep up without any problems.
Overall, is a robust machine with a metal body and base plate so it has been built to last and for heavy duty use in any factory or workshop.
What you'll like:
The walking foot system provides excellent stitch and a smooth feeding experience
Great if you want to use it on leather, denim, vinyl, upholstery, etc.
Bobbin type M to hold loads of thread and wind fewer times
Centralized Lubrication System for an easy maintenance
Things to Consider:
Too rough for light cloth garments
Use the motor belt to wind the bobbin on a separate tool
Ideal for: Continuously Sewing Tricky Corners and Perfect for Hats.
Budget: $$$$$$
Our rating:  

icon-star

icon-star

icon-star

icon-star

icon-star
See More Specs
Thread Size:

#46 – #207

Needle Size:

135×16 & 135×17

Cylinder Bed Length:

10″
Speed per minute:

2,000

Presser Foot Lift:

16mm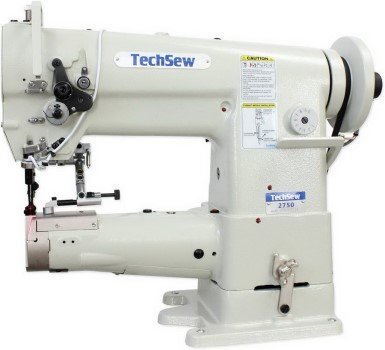 This machine is a favorite of leather goods professionals for its ability to handle crafting everything from simple belts and wallets to satchels and saddle bags both competently and easily. Of course, this model can also be used for sewing other materials and heavy fabrics such as canvas, denim, and various synthetics.
This cylinder bed industrial sewing machine includes most of the latest tech features like a laser guide to help you sew with high precision or an automatic needle positioning system that will help improve efficiency. It also allows you to stop the needle in the down position to easily turn the garment and keep sewing.
The included roller edge guide will help you keep your materials straight and accurately feed them into the machine. The flatbed attachment converts the 2750's cylindrical surface to make it better suited for working with flat items such as wallets or belts.
All of this combines into a professional sewing machine that you can rely upon as a leather crafter that comes equipped with all the necessary accessories to ensure that all your leather work is of a consistently high quality.
What you'll like:
Laser Guided for Perfectly Straight Lines
Highly Accurate Stitches
Leather Professional's Favorite Machine
Best Industrial Sewing Machine Comparison Chart
Below you will find our complete comparison chart for some of the top industrial sewing machine brands available on the market today. While their benefits and considerations may differ, all of the below are top-notch commercial sewing machines suitable for home use with high-quality motors for added dependability.
*Speed Per Minute: referring to the number of stitches a machine can perform in a minute.
When and Why Should I Buy an Industrial Sewing Machine?
An industrial leather sewing machine is a must have for anyone wanting to start a leather goods home business.
One of the most important aspects to consider is the quality of the motor in your machine. Smaller motors will wear out if overtaxed and misused, so you will want to make sure you get a hold of an industrial strength motor that is capable of heavy-duty sewing. This will also help to ensure that the length of your stitches remains consistent with a steady supply of energy from the motor.
What's the downside? Well, the quality that industrial machines provide can come at a high price.
The biggest benefit? Industrial sewing machines can stand up to the rigorous of home-based business use while guaranteeing fast sewing and high-quality stitches.
Other factors to consider include the amount of noise such heavy-duty machines can produce and the often-greater energy consumption that they require—especially when compared to typical home sewing machines.
If you're only an amateur who doesn't often work with leather, think carefully about whether an industrial-grade leather working machine is worth it for you. However, if you already work with heavy duty items, such as leather, regularly or are thinking of starting a business or even just sewing your own bags—such a machine can be well worth it. As long as you have a need for one, you'll never regret buying a leather machine and a good one will last you a lifetime.
Types of Industrial Sewing Machines
Because of the unique intricacies that heavy fabrics can present during sewing, there are several specialized sewing machines for different uses.
Depending on the Bed Style
Choosing the right machine for your own situation will depend on what items you want to create and the type of sewing that they require. Each machine will come with different features while most are typically made of high-quality metal for added durability and heft.
These machines have been designed for extended periods of time on heavy-duty materials. This is a great benefit as it means that you won't need to replace it with a new machine every other year as you would be necessary when overusing a typical domestic sewing machine on tough materials.
Flatbed Sewing Machine
When most think of their home sewing machine they probably imagine the standard flat-footed type, which is almost certainly a flatbed-style machine. And while industrial machines can appear practically identical to this type of model—they normally differ in that they aren't portable.
It all comes down to what pieces you will be sewing. For example, if they are typically flat items, such as wallets, belts, leather dresses, vests, or skirts, you will want a flat surface machine to work on such projects.
Just be sure to check how high the foot can be raised, as if you want to sew several layers of leather or another thick fabric, you will want to be sure that your foot has adequate clearance.
Cylinder
-Bed
Sewing Machine
For those that need a machine that is able to sew on hats, hidden purse corners, shirt cuffs, sleeves, and pant legs will want to look into a cylinder-bed sewing machine. This is also an ideal type of appliance for those that want to work on open leather surfaces for items such as bags or saddles.
Two things help this style of machine stand out, its cylindrical horizontal column that can vary in diameter and a large hole in the surface of its working table. This allows any cylinder-bed sewing machine to feed fabric around and down through the stitching area with ease.
One issue that users of this machine may run into is the lack of space to rest one's arms while working due to the rather large whole in the middle of the table. This can lead to poor posture and fatigue that can result in issues such as tension in the back and neck.
Post-Bed Sewing Machine
When compared to the model types featured above, this style of machine is even more specialized, as it is commonly used to manufacture boots, work gloves, or to affix emblems to garments.
The key to the post-bed sewing machine is its vertical column that rises above the flat surface of the table. Just like the cylinder-bed machine, it can be easily adjusted to different diameters or heights.
Feed-Off-the-Arm Sewing Machine
The most specialized machine we will discuss is this type, which is used to sew layers of different materials together, such as in the shoulder seams. This machine isn't essential unless you are starting your own clothing empire.
Best Industrial Sewing Machine Brands
Wondering what the best commercial sewing machine brands are today? Below you will find our personal picks for commercial sewing machine brands that everyone should look into.
Consew
Juki
TechSew
Reliable
Highlead
Of course, this isn't an exhaustive list, as there are other manufacturers who make excellent machines for extremely specific sewing and crafting purposes. But unless you need a specialized machine as we highlighted above, the list of manufacturers above comes highly recommended thanks to both their popularity among professionals and their economical prices.
If you're looking for a machine to perform a specific duty or for a special project, please leave a comment and we'll do our best to recommend a brand that will meet your needs!
Happy sewing!
Some other articles you may want to read:
FAQs