The highest quality quilting machines for every budget.

Only the best quilting sewing machine suitable for your needs can help you save time and make your quilting experience an even more fulfilling one. So if you're in the market for a regular home use sewing machine for quilting, an important factor to consider is that no matter what brand or model you end up picking, you make sure that it can handle multiple layers of material and not jam or tear through your fabric.
Moreover, it should also have added features to help you customize your sewing room to your sewing needs. We've thoroughly researched the web for most of the best brands, models, and features so you can be sure you'll find here the perfect quilting machine no matter your needs.
Now, feel free to enjoy an introductory buying guide or jump straight to:
The Best Sewing Machines for Quilting at Home Reviewed
Now let's review our best choices trying to consider most users' needs and different budgets.
Budget: $$
Our rating:

icon-star

icon-star

icon-star

icon-star

icon-star
Drop Feed Dogs:

Yes

Speed Slider:

Yes

Start/Stop Button:

Yes
Speed per Minute:

820 spm

Decorative Stitches: 60
Throat Space: 6.8″
Included Feet

:

Open-Toe Even Feed, Open-Toe Darning, Overedge, Zipper "E" Sewing, Satin Stitch, Blind Hem, 1/4" Seam, Zig-Zag, Automatic Buttonhole.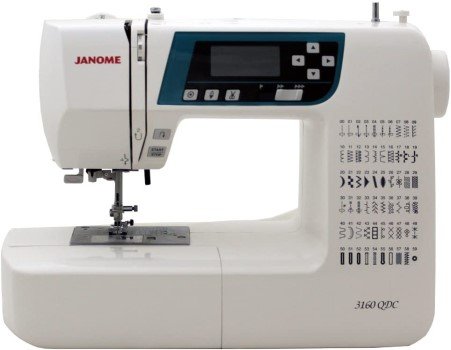 The Janome 3160 is hands down the favorite sewing machine for quilt retreats and sewing lessons. Besides, it's lightweight and small in size which also makes it perfect for your camper during your holidays.
It has a table that comes with it to extend the area where you can sew which makes it perfect for heavier projects or fabrics since the weight doesn't pull the fabric.
No matter your skill level, this machine adapts to you from the very beginning. As a beginner, you'll find it super easy to thread and, as a more advanced sewer, you'll notice how everything you can do with a bigger machine you'll be able to do with this model, except maybe big quilts, which makes it perfect to have a second home machine or take it to your retreat.
Even if you're a quilter, you'll find that this machine has every feature necessary to make the best out of your skills. It's true that the stitch length's limit could be higher as for the machine basting it's a bit short — 5mm length —, but I'd say it's the only downside you'll find.
What you'll like:
Perfect for travel and going to quilt and sewing group meetings.
Start/Stop Button and Speed Slider Controller for full hand control.
Strong enough to work on heavier fabrics like denim.
Sewers wanting to branch into quilting.
Extended Table Included.
Hard Cover Included.
To take into Account:
The maximum stitch length is 5mm.
No knee lifter.
Budget: $$$
Our rating:

icon-star

icon-star

icon-star

icon-star

icon-star
Drop Feed Dogs:

Yes

Speed Slider:

Yes

Start/Stop Button:

No
Speed per Minute:

1,500 spm

Decorative Stitches: No
Throat Space: 9″
Included Feet

:

Standard, Zipper, Even Feed, ¼ Quilting.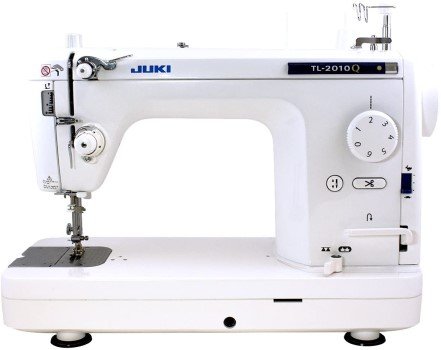 Ideal for quilting and piecing, the Juki TL-2010Q is a single needle machine made from aluminum die-casting, just like industrial models, yet it's quiet and light enough to be a dream for home use. It really is the best of both worlds, industrial quality in a domestic machine.
Take a look at how big its throat is. This Juki has enough room to effortlessly handle large quilts and home decor projects while consistently producing a precise stitch.
Tall people will like the fact that they can sit upright and yet see what's going on around the needle area, as this machine is quite large.
What's even more impressive is how quickly you can switch from regular to free motion sewing. Speaking of which, this machine makes free-motion quilting a breeze; it sews heavy fabric like butter and the slow speed works wonderfully. Besides, it has the most responsive pedal and you can also use a speed slider, which can be a lifesaver when working on tricky parts. Seriously, your FMQ* skills will improve at light speed.
As you've seen, this machine comes with all of the essential features that quilters require, including a wide workspace, excellent stitch quality, and speed control. If I had to think of a disadvantage, it would probably be its large size if you have a small sewing room. Nevertheless, the majority of the machines on this list are quite large.
FMQ* stands for Free Motion Quilting.
What you'll like:
Perfect for users who don't need plenty of decorative stitches and rather have a wonderful straight stitch machine and superb stitching quality.
Instant needle up and down, no waiting for the next stitch to stop.

It also has 2 vertical thread holders for larger spools.

It uses standard home sewing needles, which will save you money.
Thread-cutting options on the front of the machine through a button or on the foot pedal.
The pedal foot is big, comfortable, and very responsive, ideal if you enjoy standing up while sewing.
Although there is no learning curve for this machine, you'll still find plenty of support online.
This Juki offers you a super smooth experience with multiple layers of batting.
Something to consider:
It can be difficult to learn how to use the automatic needle threader, but once you do, it's extremely useful.
While heavy-duty, it's not strong enough to sew through heavy canvas or leather on a continuous basis.
Only straight stitches, no zig-zag or decorative stitches.
If you want an open toe walking foot, you can get Janome's High Shank walking foot, as Juki doesn't manufacter one.
If you want this machine to last you a lifetime, get used to oiling its 6 spots every time you use it.
Budget: $$
Our rating:  

icon-star

icon-star

icon-star

icon-star

icon-star
Free Arm:

Yes

Harp length:

9″

Shank:

High Shank CRF Foot
Speed per minute:

1,500

Motor Power:

–

Throat Space: 9″
Included Feet

:

General Purpose, 1/4 inch, Concealed Fastener, Flex Reaction, Walking Foot, Quilting, Zipper.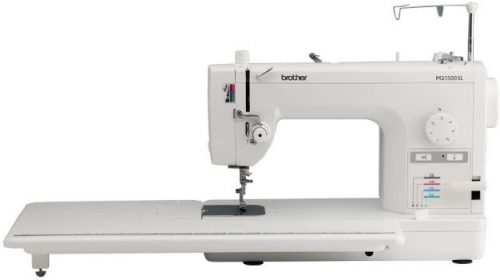 What's special about the Brother PQ1500SL is the Pin feed system that not many other machines include. It's literally a pin on the bottom feed that helps feed the fabric, helping you perfectly match checks and stripes or work on heavy wool without an issue. Nevertheless, it can easily be disengaged if you don't want to be using it at all times.
This machine was somehow designed modeling old-fashioned sewing machines that were much more sturdy than many modern models. Thanks to that, even if it has no speed slider reducer, by using the sensitive pedal you can go from a single stitch at a time to full speed and always delivering perfect feed and a precise stitch.
The Brother PQ1500SL is also a great option for continuous piecing as the machine comes with a brilliant 1/4″ piecing foot and very clear markings on the stitch plate, all of which help you to consistently get the perfect 1/4″ seam. Same for sewing through eight layers of fabric and batting, this sturdy model simply delivers great quality in anything you need while remaining fairly quiet.
Lastly, a huge advantage to this Brother is its price. If you've fallen in love with the Juki TL2010Q but have a lower budget, you can stop worrying as this machine is pretty much the same for a lower price.
What you'll like:
With the Precision pin feeding system, the machine moves all layers of your quilt together or a delicate velvet without leaving feed dog marks in the nap.
You can change the feed dogs' height to better work with different materials or for free motion.
Its weight keeps it suctioned in place while quietly sewing large projects, even at full speed.
The pedal foot is very responsive and easy to control, which makes dealing with the speed a delight.
Built-in Knee Lifter leaving both hands free for fabric handling.
It comes with a wide extension table.
Something to consider:
No Free Arm.
The needle up and down feature stops working on the next stitch, instead of immediately.
Only straight stitches, no zig-zag nor decorative stitches.
The needle up/down button only works by leaving the needle either up or down at the end of a seam.
Budget: $
Our rating:

icon-star

icon-star

icon-star

icon-star

icon-star
Drop Feed Dogs:

Yes

Speed Slider:

Yes

Start/Stop Button:

Yes
Speed per Minute:

850 spm

Decorative Stitches: 60
Throat Space: 5.25″
Included Feet

:

buttonhole, overcasting, monogramming, zipper, zigzag, blindstitch, button fitting, walking, spring action quilting.
If you're looking for a basic, entry-level quilting machine that's easy to use and won't break the bank, the Brother CS6000i is what you need. It comes packed with features that not only help you learn the ropes but also allow you to work on even more advanced projects later on.
A great thing about this model is that it comes with a table (sometimes sold separately) for working on larger projects such as quilts and other types of home decor items. The seam guide rail even makes achieving straight seams on your quilting piece a breeze.
Apart from 10 quilting and heirloom stitches, this machine features 7 styles of 1-step buttonholes, including the popular cross-stitch style that's perfect for at-home decor items like pillows or napkins. You can also adjust your needle up/down position depending on your project needs.
The drop feed lets you move the fabric underneath the needle so you'll be able to stitch freehand without using pins and it automatically drops after each use so you won't lose tension control during operation. By raising the presser foot lifter, you can easily slide thicker fabrics smoothly under the foot without damaging them or stretching out stitches, which is great if you're quilting with thick batting pieces as well.
This machine can be a good choice if you have never used a quilting machine as is a great quilting starter option that'll help you perfect your skills until you're ready to move up to something more advanced.
What you'll like:
Extremely affordable
Decent build quality and very user friendly
Comes with a decent amount of accessories
Move it easily around the house or take it to retreats and second home.
Something to consider:
Somewhat lightweight (not very sturdy)
Can't be used for professional purposes (light household use only)
Budget: $
Our rating:

icon-star

icon-star

icon-star

icon-star

icon-star
Drop Feed Dogs:

Yes

Speed Slider:

Yes

Start/Stop Button:

Yes
Speed per Minute:

850 spm

Decorative Stitches: 185
Throat Space: 6″
Included Feet

:

General Purpose, Zig zag, Blind Stitch, Zipper, Quilting, Buttonhole, Button, Overcasting, Monogramming.
The Brother HS1850 is intended for home use to create your own homemade quilts or add new patches onto existing ones. This unit will save you money by allowing you to do it yourself rather than having to spend a lot on purchasing pre-made patchwork quilts from stores that probably don't even fit all that snuggly into your bed anyways!
Nevertheless, it isn't meant for heavy use, so it's probably not practical to use this machine for super large quilts as throat space is limited.
The HS1850 will work right out of the box and help you create your quilt without any problems whatsoever. If you like creating homemade gifts and crafts you may find this unit particularly useful as well; using scraps from old clothing items, leftover materials around your home, or clothing that does not fit anymore. You'll have multiple different stitching styles at the touch of a button!
Lastly, it's easily portable while remaining a compact unit so you can take it with you on camping trips or while visiting friends. It will also allow you to quickly move your quilts from place to place so you can bring them along with you wherever you go!
What you'll like:
It comes in very handy when making quilts or even just general sewing projects
Incredibly easy to thread for newbies
Affordable price tag for beginners
Something to consider:
Smaller throat than more advanced machines
Budget: $
Our rating:

icon-star

icon-star

icon-star

icon-star

icon-star
Drop Feed Dogs:

Yes

Speed Slider:

No

Start/Stop Button:

No
Speed per Minute:

750 spm

Decorative Stitches: 50
Throat Space: 6″
Included Feet

:

General Purpose, zig-zag, zipper, buttonhole, button, blind stitch, overcasting, monogramming.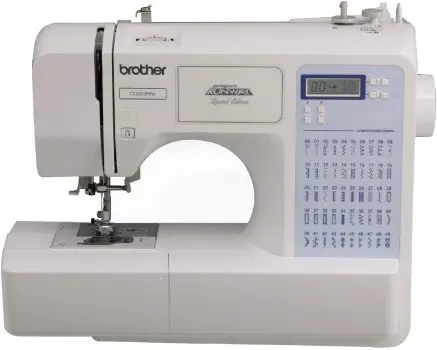 With a wide range of available stitches and functions, the Brother CS5055 is definitely a real quilter's dream. This sewing machine has been made to make sure that you'll get all the help you need from it when it comes to quilting your patterns. It is also very easy to learn how to use this device thanks to its thoughtful design and simple settings, so if you're a first-time user looking for a new machine or an experience user aiming for something more advanced, you won't be disappointed with what this great product has to offer.
With a heavy duty metal frame and an extra-wide table included in the set, the Brother CS5055 Sewing Machine is made to last. But what's probably the best part about it is how quiet this machine is when in use – perfect for quilting purposes!
The price of this model is a little over $200, making it a really affordable option when compared to other devices in its category.
With an average rating of 4.4 stars out of 5 on Amazon, the Brother CS5055 Sewing Machine proves to be worth every penny spent on it. In fact, most people who bought this product say they got what they were expecting from it – an easy-to-use sewing machine offering great performance at a low price. 
What you'll like:
Automatic needle threader saving you time
Built-in thread cutter
It's been a bestseller for year's now 
Something to consider:
It's probably the most basic model in this list so only for beginners
Budget: $$$$
Our rating:

icon-star

icon-star

icon-star

icon-star

icon-star
Drop Feed Dogs:

Yes

Speed Slider:

Yes

Start/Stop Button:

Yes
Speed per Minute:

1000 spm

Decorative Stitches: 200
Throat Space: 8.1″
Included Feet

:

1/4 Inch Seam, Blind Hem, Button, Darning, Embroidery, Overedge, Rolled Hem, Satin Stitch, Zig-Zag, Zipper.
Some people might think that a Janome 9850 quilting machine is too expensive for quilting purposes, but there are many benefits to using this machine that make it worth the investment. For one, the Janome 9850 is a computerized machine, which means it can be programmed to do many different stitches in the combination you'd like. This is important for quilting because you need a machine that can do a variety of stitches in order to create different designs.
The Janome 9850 also has a large sewing area, which is especially important when quilting because you often need more space to maneuver the fabric. Additionally, the Janome 9850 is very durable and reliable, so you can count on it to last for many years. Finally, the Janome 9850 also has embroidering capabilities and is very easy to use, which makes it a great choice for you if you're looking for a versatile model and have a higher budget. So overall, the Janome 9850 is a great machine for quilting and is well worth the investment.
What you'll like:
You're buying sewing, embroidery, and quilting capabilities, all in one durable machine
You can program several stitches to work one after the next automatically
Something to consider:
You'll need to have a higher budget but I'd consider it a great investment
Budget: $$$$
Our rating:

icon-star

icon-star

icon-star

icon-star

icon-star
Drop Feed Dogs:

Yes

Speed Slider:

Yes

Start/Stop Button:

Yes
Speed per Minute:

900 spm

Decorative Stitches: 106
Throat Space: 8″
Included Feet

:

Standard Purpose, Zipper, Overcasting, Blind Stitch, Buttonhole, Manual Buttonhole.
The Juki F300 quilting machine is a great choice for quilters who are looking for a reliable and efficient machine that can handle a variety of tasks. This machine is perfect for piecing, appliqué, and quilting since it has a large work area that makes it easy to maneuver your fabric, and the needle bar system ensures consistent stitch quality.
Additionally, this machine comes with a number of helpful features, such as an automatic thread cutter and an automatic bobbin winder. This machine is also backed by Juki's excellent customer service and support. If you're looking for a reliable and versatile quilting machine, the Juki F300 is definitely worth considering as it's built to last, so you can rely on it for years of quality quilting.
What you'll like:
It has a large work area, which allows you to quilt larger projects more easily
As fast and efficient as any other Juki machine, which saves you time while quilting
It is easy to use even for beginners
Something to consider:
You'll need to have a higher budget but I'd consider it a great investment
Budget: $
Our rating:

icon-star

icon-star

icon-star

icon-star

icon-star
Drop Feed Dogs:

Yes

Speed Slider:

Yes

Start/Stop Button:

Yes
Speed per Minute:

850 spm

Decorative Stitches: 70
Throat Space: 6.5″
Included Feet

:

¼" piecing, spring action quilting, walking, buttonhole, overcasting, monogramming, zipper, zigzag, blind stitch, button.
What sets the Brother CS7000X apart from its older sister the bestseller Brother CS6000i seen above is the added Fixed Needle Bar, a feature especially interesting for quilters. And what are its benefits when quilting?
One is that it helps keep the tension consistent on your fabric as you sew. This is because the needle bar is locked in place, so it can't move around and cause your stitches to become uneven. This also helps to prevent skipped stitches and thread breakages.
Another benefit of using a fixed needle bar is that it makes it easier to keep track of your seam allowance. Since the needle bar is stationary, you can use a ruler or other guide to help ensure that your seams are evenly spaced. This can be especially helpful when piecing together large quilt blocks.
Finally, using a fixed needle bar can help improve your accuracy and stitching quality. This is because the needle bar is always in the same position, which means that your stitches will be more consistent from one stitch to the next.
What you'll like:
Fixed Needle Bar
Extremely affordable option
Decent build quality and very easy to use, so even novice quilters can achieve great results with this machine
Comes with a decent amount of accessories
Move it easily around the house or take it to retreats and second home
Something to consider:
Can't be used for professional purposes  so light household use only
Budget: $$
Our rating:

icon-star

icon-star

icon-star

icon-star

icon-star
Drop Feed Dogs:

Yes

Speed Slider:

Yes

Start/Stop Button:

Yes
Speed per Minute:

700 spm

Decorative Stitches: 100
Throat Space: 6″
Included Feet

:

Standard Zig-Zag, Applique / Satin Stitch, Blind Stitch Presser, Zipper, Buttonhole Presser, Overcasting.
What setsa
 The Juki HZL-LB5100 is a great option for quilters looking for an affordable and high-quality machine.
The LB5100 offers features like a decent throat space for quilting, a built-in bobbin winder, and a foot pedal that make it easy to use. It also has a stitch regulator that helps you create precise stitches, ensuring your quilt turns out perfectly. Plus, the LB5100 is durable and reliable, so you can count on it to last for years.
If you're looking for an affordable quilting machine that delivers quality results, even though it isn't advertised as a quilting machine, the Juki LB5100 comes with all the right features for quilters so it can be a great option if you need to stay within budget but still want to buy Juki quality.
What you'll like:
Affordable high-quality to stay within budget
Something to consider:
It is not designed to use it for quilting purposes, nevertheless, it comes with every needed feature
You'll need to buy the necessary quilting feet
Best Quilting Machines Comparison Chart
Let's compare the best quilting machines for home use.
*Speed Per Minute: referring to the number of stitches a machine can perform in a minute.
How to Choose the Best Sewing Machine for Quilting?
There are many types of sewing machines suitable for a wide range of projects.
Each type of machine has benefits and drawbacks depending on what you need it for, and sewing machines for quilting are no exception since quilting requires a few additional features in a sewing machine that aren't always needed for regular sewing projects.
Here are some things to consider when choosing a sewing machine specifically for quilting. With a little thought and research, the right machine can make your quilting projects go more smoothly.
1. Basic Features to Look For in a Quilting Machine
Flat Sewing Surface and Extended Table Space
If you've ever done any machine quilting, you know that it's nice to have a big space to keep your work flat under your needle.
Some domestic sewing machines have a narrow free arm base that is great if you need to sew sleeve hems, but not as useful for quilting something that you need to lie as flat as possible while you stitch. For this reason, it's almost imperative to look for a sewing machine that has a nice wide flat sewing surface.
If you also need your machine to do double-duty and be a free arm sometimes, there are some models that can convert back and forth easily with a wider space that slides in and out around the narrower free arm. An even more helpful feature to achieve this large flat surface are sewing machines that have extended table space.
A table extension can add even more width to the sewing surface of your machine to really provide a nice workspace to keep your project flat. This is especially useful for larger projects or free motion quilting.
Throat Space
It's an odd-sounding name, but throat space – or throat length – refers to the space between the needle and the side of the sewing machine to the right of the needle.
When quilting, your project can usually just hang out freely to the left side of the needle, as much as your workspace allows, but on the right side, the rest of the machine is there creating a bit of a narrow tunnel that your project has to squeeze through. It's helpful to have a larger throat length to accommodate the right side of your project with as little rolling up or scrunching as possible while you're working on it.
There is a wide range of different lengths to choose from, and often sewing machines that are sold specifically as quilting machines will have longer ones.
Long Arm Machines
Speaking of throat space, if you want to get really serious with a quilting machine that may not do a lot else, a long arm machine is something to look into. These sewing machines have oodles of throat space – up to 26″ on some models! For this reason, they do take up quite a bit of space in your work area.
Some models even have handles to grasp and wheels on the bottom so that you can mount your project in a quilting frame and move the machine around to do the quilting, rather than moving your project around as you would on a static machine. These machine heads can weigh anywhere from 20-50 pounds to move around, however, which can require a bit of strength if you're working on a big project.
In addition, if you need to use your sewing machine for things other than quilting, a long arm machine is probably not your best option. They are meant for quilting and don't have a lot of the bells and whistles of a regular sewing machine. However, if you have a sewing machine for your other needs and need to make the leap to something just for serious quilting, long arm sewing machines are definitely worth looking into.
Needle or Presser Foot Clearance
When you're sewing something thick with a lot of layers, something to consider is the clearance space available when you lift the presser foot. The space you might need to slide two layers of cotton under your needle for piecing is going to be a lot less than the amount of space you will require for your quilt top, batting, and backing fabrics all sandwiched together.
Different machines have different clearance heights, and some of them are adjustable. Make sure that there is enough space when you lift up your presser foot to easily slide your quilting projects underneath.
Lots of Light
Quilting takes a lot of precision. While you may be able to stitch a regular straight seam on a sewing machine with inadequate light, trying to quilt an intricate pattern without proper light is going to be much more frustrating.
While there are supplemental lights that you can buy to add to your workspace – or even attach onto a machine with magnets -, a good light source, to begin with, is always a plus, especially for fine work like quilting.
Machine's Weight
While sometimes it's nice to have a lightweight sewing machine that can be moved around easily, this is not always the case for a quilting machine. Think of the weight of a larger quilting project hanging off the left side of a sewing machine while you're quilting it. A lightweight machine with all of that weight to one side could very well tip over to the side entirely!
To make sure you have a safe and secure sewing surface, getting a heavier machine for quilting is a good thing to do.
Some machines can suction to a work table with little suction cups on their feet, and ones with table extensions have extra little feet to help hold that extension up for extra support as well. However, if you start out with a nice sturdy and heavy machine, the chances of a tipping mishap are much less.
Vibration Control
Another comfort and safety issue to consider is vibration in your quilting machine. If you have a sewing machine that tends to rattle around a bit when it's run quickly or for a long period of time, not only is it jarring to your body and ears, but it can also affect the quality of your work.
In addition, excess vibration can cause pieces to loosen abruptly, which can harm the life of your machine or even your safety – a loose needle falling down while the machine is running quickly can break in the blink of an eye and fly out towards the person operating the machine, for example -.
There are sewing machines on the market that combat these issues with built-in vibration control, or that come with a bed to cut down on vibration. These are not always a necessity – there are other means of doing this yourself with a good sturdy machine. Some people put their sewing machines on pieces of thick felt to help cushion against excessive vibration.
Also, having a very sturdy table can help- if you are trying to sew on a flimsy plastic folding table, your machine is going to jump around every time you wind a bobbin, but a nice strong table will help absorb some of that extra movement and help your quilting to go more smoothly.
It's worth checking online reviews to see if there are complaints about vibration from owners of a sewing machine you're thinking about purchasing.
2. Some Bells and Whistles your Quilting Machine may have
Automatic Threading
A lot of sewing machines nowadays have an automatic threading feature, which saves you the trouble and potential eyestrain of getting your thread through that tiny tiny needle hole.
If you have eyesight or dexterity issues at all, an automatic threading feature on your sewing machine can be a real timesaver – or just a frustration saver! -.
Automatic Thread Cutters
Some sewing machines have a unique feature that cuts the thread ends for you as you work. This can be useful to keep working through a lot of small seams, such as when you're piecing, but it also leaves a thread tail behind that you have to trim down later.
Using it for quilting has the same issue, and some people have problems with thread tangles when they use it for quilting, which is also not ideal. And if you choose to tie off your thread ends to lock in your quilting stitches, the tails from the automatic cutter may not be long enough to tie.
Machines that have this feature also have a manual mode, so if you choose a sewing machine with an automatic thread cutter, it might be worthwhile to do a little bit of experimentation and see what works best for your personal work style and the specific quirks of your machine.
Fix Stitch
Another feature on some newer sewing machines is an automatic tiny reverse stitch at the beginning of each seam. This can be super helpful if, like a lot of us, you often forget to lock your stitches in with that backstitch when you start sewing.
However, for quilting in particular, this may not be a great feature to use, depending on the look of the back stitched area. Some quilters feel that the fix stitch feature on their machine ends up looking like an unsightly knot on the bottom of their quilt and like to disable it when quilting.
Again, if your machine has this feature, do a little testing and see if you like the convenience of using it more or the look of not using it.
Adjustable Speed
Depending on what it is that you're stitching, you may want the extra control of a machine with adjustable speed. If you're speeding through some very simple piecing, you may want to floor that pedal and channel your inner factory worker. However, if you are trying to quilt an intricate pattern neatly, you may want the extra control of a slower speed.
Having a speed adjustment feature can be more helpful than just trying to go slow on your own with a machine that likes to run away with you. A lot of sewing machines will advertise their "stitches per minute", but an adjustable one is more important for quilting than a fast one.
Knee Lever
Picture the scene: you're trying to keep your large quilting project exactly where you need it to be, supporting it with both hands at the end of a run of quilting, and you suddenly realize you need to raise the presser foot to continue, with loads and loads of quilts in both of your hands.
What's a quilter to do?
A machine with a knee lever – or knee "pedal" – is the perfect answer to your situation! With a knee pedal on your machine, you don't have to reach back to raise the presser foot – simply move your knee to the side against the lever under your machine table and the presser foot lifts automatically.
A lot of industrial sewing machines have this feature because it saves a lot of time for factory sewers, but it is certainly a very handy feature for a home quilter as well, and quite a few domestic machine models have them now.
Needle Stop Position
Some machines have a feature that will allow you to set the needle to always stop in the Up position or the Down position which can be super helpful when quilting. If you set it in the Down position, you can pivot to change direction much more easily and leave your hands a bit freer to keep them on your work instead of going back and forth to the flywheel to move the needle down after each run of stitching.
Alternatively, if you are doing a lot of piecing quickly, you may want to set it to Up so that you can slide the next bit into place efficiently without having to fiddle with the flywheel.
Free Motion
Unless you are only quilting in straight lines or large curves, you will want the option to convert your machine to accommodate free motion quilting. This basically uses the needle to draw your own design but is virtually impossible to do efficiently if the feed dogs are engaged and grabbing the bottom layer of fabric.
Many sewing machines have retractable feed dogs that can lower down to get them completely out of the way, leaving a smooth surface for the bottom layer of your project to slide around relatively freely.
Some machines even have more fine adjustment options so that you can control the upward pressure of the feed dogs just as you would the downward pressure of the presser foot, for when you want a little pressure from the feed dogs but not a lot.
Stitch Plates
On many standard domestic machines that feature a zig-zag stitch, the stitch plate – or "throat plate" – that comes with them has a little slot for the needle to go into, accommodating the width of a zig-zag stitch should you wish to use it.
However, having that extra width in the hole isn't always the best thing for a straight stitched quilting project. Instead, a stitch plate with a single hole can keep any extra fabric from trying to sink down below the plate and can give you a little more control.
Obviously, if you want to use a zig-zag or other decorative stitches, you will want to put the wider slotted throat plate back on!
Special Stitches
If you plan on doing any decorative stitches or embroidery on your projects, there are many to choose from out in the world. Some machines have hundreds of different decorative stitches or can be programmed to spell out text in different alphabets.
Some machines also have specific quilting stitches that you may want to have in your arsenal, such as a tie-off stitch or a stay stitch. If you do any appliqué work, you will want a sewing machine that offers a few simple stitches that lend themselves to attaching the appliqué in a decorative way – maybe something a tiny bit fancier than a standard zig zag -.
The choices of specialty stitches can be a bit overwhelming, so unless there's a particular pattern that you absolutely have to have – or a feature like the text programming if you like to add writing to your pieces -, choice of embroidery stitches may not be the first thing to look at when choosing a machine for quilting.
Embroidery Frames
If you do add a lot of machine embroidery to your quilting, you may want to look for a sewing machine that can accommodate an embroidery frame. This will help stabilize the area you're embroidering just like an embroidery hoop does for hand embroidery, keeping the fabric taut and preventing bunching from the construction of the design.
It may even come in handy for smaller and more intricate quilting as well.
Fancy Feet for Quilting
No matter what kind of sewing or quilting you would like to accomplish with your sewing machine, there is probably a specialty presser foot out there that can help you achieve your goal.
Always check the downward pressure of any foot you are using and adjust it, as different thicknesses of the projects underneath may need more or less pressure than others.
Walking Foot
One of the feet specifically helpful for a quilting project is a walking foot.
On a regular sewing machine, the presser foot generally stays in one place, holding the top fabric in place just enough to keep it stable, and the feed dogs feet the fabric sandwich through from below. But if you have thick fabrics or a larger "sandwich" with batting in the middle, sometimes this setup can make the layers get pulled through the machine unevenly, causing tiny tucks or even shifting the whole top of the project slightly away from the bottom.
One solution for this is a walking foot. This special presser foot "walks" along with the feed dogs to feed the whole sandwich of your project evenly.
Darning Foot
Also known as a free-motion foot or a hopping foot, a darning foot is a great tool for quilting, particularly if you want to do some free motion quilting.
It looks almost like a teeny tiny embroidery hoop and provides a stable area for moving your needle around wherever you choose, or wherever your embroidery programming wants it to go.
This foot comes in either plastic or metal. Plastic is nice to be able to see through but can be less sturdy than metal. It also comes either with a spring or without.
The spring keeps the pressure of the foot down on a project, but also allows for the movement of the foot up to clear thicker materials if needed. Some people prefer to control this without the spring – it really comes down to personal preference and the type of projects you need it for.
Straight Stitch Foot
Most of us end up doing a lot of straight stitching with a foot intended to accommodate the width of a zig-zag stitch, because that tends to be the standard foot that comes with most sewing machines. However, if you are doing very fine straight stitch piecing or quilting, you may want to use a foot that has a single hole instead of the wider slot.
This foot, especially when paired with a straight stitch throat plate, can really add a bit of control and quality to delicate straight stitching.
3. A few Tips before Buying a Quilting Sewing Machine
While there are certainly many things to consider when choosing a sewing machine for quilting, don't get too overwhelmed.
It might be helpful to try a practice quilting project out on your regular sewing machine and see what issues you run into while piecing and quilting.
Think about the priorities of your projects and which qualities you really need to have.
There are so many sewing machines that are great for quilting in a variety of price ranges, and with a little bit of research, you can find the one that is perfect for you.
Some other articles you may want to read:
FAQs
What is the best sewing machine for quilting?
There are many sewing machines that are prepared for quilting. However, we have selected the best sewing machines for quilting on the market for you. Check them out!
What is the difference between a quilting sewing machine and a regular sewing machine?
Basically, a quilting machine is also a sewing machine with some added features and capabilities that increase the ease of use when you're creating a quilt. Feel free to read more about the best machines for quilting.
Do you need a special sewing machine for quilting?
If you want to start quilting, but you have a limited budget, know that any sewing machine can be used to quilt. Even for free-motion quilting, you can use your regular machine by changing into a free-motion quilt foot and dropping the feed dogs. If your machine can't drop the feed dogs, place some kind of plastic piece on top of them and keep stuck with a few pieces of tape. Now you'll be able to move the fabric around the way you want.
Nevertheless, if you can afford a specific quilting machine the task will become easier and you'll save loads of time and patience. Check the best sewing machines for quilting.