If you've decided to start embroidering from the comfort of your home and you want to choose a new sewing and embroidery combo machine, you are in the right place as we have selected the best sewing and embroidery machines for the most affordable prices out there. 
And even though sometimes embroidery machines may seem a bit expensive, the prices of all the selected models are more than justified, no matter the brand.
At the end of the article, you will find a comparison chart with all their features right after the reviews or jump straight to it.
The Best 4 Sewing and Embroidery Machines Reviewed
Budget: $
Our rating:  

icon-star

icon-star

icon-star

icon-star

icon-star-half
EMBROIDERY FEATURES
Built-in Designs: 80
Speed per minute: 400
Area: 4″ x 4″
SEWING FEATURES
Decorative Stitches: 103
Speed per minute: 710
Free Arm: Yes
Brother SE600 is excellent for first-time users to sew and embroider since it's super easy to learn how to use its features. I can't think of a better machine for a beginner and for a more affordable price for the value of the product.
Easy peasy: this machine simply offers excellent value and performance for a fair price. That is why this machine is my number one for beginners of all ages.
Brother SE600 comes with a 4″ x 4″ embroidery area and with the possibility of re-hooping in case of wanting to embroider a larger design. It also includes 80 Embroidery Designs, 103 Built-In Sewing Stitches and, a large Color Touch LCD screen, where you can easily change specific embroidery thread colors and then preview before stitching.
Also, an automatic needle threader, which comes super useful when embroidering with a broad palette of colors; 6 embroidery lettering fonts, allowing you to personalize your creations also with different sizes and; free arm for cuffs and sleeves which a consider a must.
Besides, this Brother model brings a feature for auto-sized buttonholes and comes with a USB so you can import your designs.
 Once you become a Brother customer, you'll have access to more than 1000 free embroidery designs at iBroidery.com.
What you'll like:
You can create your own decorative stitches.
Low budget price.
A low learning curve, perfect for beginners of all ages.
Free Arm
To take into Account:
Limited embroidery area to 4″ x 4″
Budget: $$$
Our rating:  

icon-star

icon-star

icon-star

icon-star

icon-star-half
EMBROIDERY FEATURES
Built-in Designs: 138
Speed per minute: 650
Area: 5″ x 7″
SEWING FEATURES
Decorative Stitches: 850
Speed per minute: 240
Free Arm: Yes
For half the price of the Janome MC8950, you could have a multipurpose machine that is suitable for beginners of all ages who are learning how to sew on their firsts projects. A downside compares to our number 2, is that the maximum embroidery area of 5×7. The good thing is that Brother SE1900 allows a multi-positional hoop of 12 "x5", which means that the maximum área shouldn't be an issue.
Brother SE1900 can efficiently perform embroidery on any fabric of your choice and it is my absolute favorite from this brand when looking for a computerized combination machine.
Some of the products that this package includes are a needle of each size (11,14 & 16), a knee lifter, a hoop of 5×7, But, overall, what I love about this model is that for a very fair price, you get a machine that achieves an excellent quality of the embroidery.
And it only is a home sewing and embroidery machine.
What you'll like:
Free motion quilting
Knee Lifter
Create your own decorative stitches
To take into Account:
It is not the cheapest machine
Budget: $$$$
Our rating: 

icon-star

icon-star

icon-star

icon-star

icon-star
EMBROIDERY FEATURES
Built-in Designs: 175
Speed per minute: 800
Area: 6.7″ x 7.9″
SEWING FEATURES
Decorative Stitches: 200
Speed per minute: 1000
Free Arm: Yes
This the new version of Janome 9900 and it is just as robust and reliable as the previous model. You will find that it's the perfect machine for users working on advanced projects.
It is also super easy to use for you as a beginner giving your first steps in the sewing and embroidering world. Notice the Start/Stop bottom on the picture beneath the text? It is the ideal feature for beginners and even children who are curious about creating their first garments. Of course, supervise them while they experiment.
Janome HMC 9850 includes plenty of features and functions for all types of sewing and embroidery. I would say that, for the price, it is the best option you will find out there today. That is a given. There is no doubt that this high-end model delivers excellent quality stitches. It is a unit that, this machine is very smooth when stitching and super accurate when quilting.
And yes, you can also quilt with this model.
What you'll like:
Programmable jump thread trimming
Auto return post thread break
Twin needle guard
Automatic thread tension
Maximum Stitch Width of 9mm
Up to 3MB of memory storage
Speed Control Slider
Adjustable hoop positioning
10 Extra Feet Included
To take into Account:
Does not include a case nor a cover
Budget: $$$$
Our rating: 

icon-star

icon-star

icon-star

icon-star

icon-star
EMBROIDERY FEATURES
Built-in Designs: 208
Speed per minute: 850
Area: 6.3″ x 10.2″
SEWING FEATURES
Decorative Stitches: 500 + Stitch Design
Speed per minute: 1000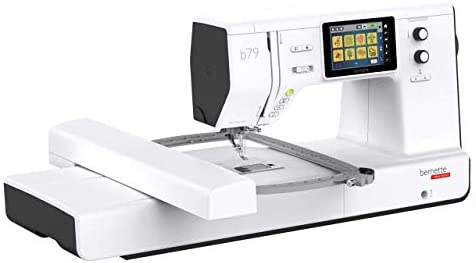 As the more accessible line of Swiss brand Bernina, Bernette machines are known to have an excellent quality making it worth considering them as a primary option. If you've heard of the B77's sewing wonders and the B70 DECO's embroidery quality of stitches, know that this is the actual hybrid of both models.
Many features and details make the Bernette B79 go straight into our list.
To name a few, the Stitch Designer program allows you to create your own stitches, in addition to bringing hundreds of different stitches to play around with. With your customized stitches, you will be able to make the most original designs.
To avoid unraveling, you will also get the automatic tie-off function, so you no longer need to reverse stitch. What you will find even better is that you can program it to work together with the automatic thread cutter. Now with a simple tap on the back of the foot controller, you will easily complete the seams in no time.
You can even program it to pause during embroidery and cut unwanted tails for a more professional-looking design.
But now that most machines are made in China and made of large amounts of plastic, the thing I love most about this machine is the Swiss design. You could perhaps say that since it was made of metal and with small plastic components, it will most likely last longer than any other models in the same price range, regardless of its popularity.
To end with Bernette B79, the fact that it's compatible with most embroidery design formats is another small detail that makes this machine worth considering. You can now skip both converting your designs and buying the now unnecessary software.
What you'll like:
Large cast aluminum frame.
It can read multiple embroidery file types.
Slide-on table to easily work on larger projects like quilts.
Knee lifter for the presser foot and guide your fabric with both hands.
Even beginners can learn how to use it.
LED light and eco function to save energy.
Bernina quality for a lower price tag.
To take into Account:
It takes more than half a minute to startup.
Home Embroidery Machines Comparison Chart
After reading all the sewing and embroidery machine reviews on our list, you may want to compare the main features and prices these computers can offer you in this embroidery machine comparison chart.
*Speed Per Minute: referring to the number of stitches a machine can perform in a minute.
**Area: referring to the maximum embroidery area that an embroidery machine can reach.
Some other articles you may want to read:
FAQs